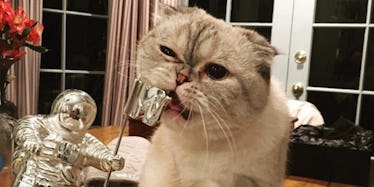 Taylor Swift's Cat Had The Best Resting B*tch Face, And We Can All Relate
Shutterstock
If you've ever pulled up to a party and immediately begun calculating how long -- commute included -- it'll take until you're back home in bed, alone, eating a sandwich and watching Netflix, you might be a Meredith.
Meredith Grey ~the cat, not the fictional MD~ socialized with friends of her owner, Taylor Swift, into the wee hours of Friday morning.
Unfortunately, ol' Mer wanted nothing to do with low-key socializing this weekend or perhaps any weekend, ever, for eternity.
Swift tweeted photos of Meredith frowning her way through the party.
Come to the party, they said It will be fun, they said pic.twitter.com/9jXvtDljZB — Taylor Swift (@taylorswift13) April 15, 2016
The pop star's other four-legged roomie, Olivia Benson ~the cat, not the fictional sex crimes detective~ was nowhere to be seen in the photos, suggesting she also rejected the idea from the very beginning.
In her time off following the end of her 1989 World Tour, the "New Romantics" singer has been spending plenty of one-on-one time with each of her cats, an obvious preference of Liv and Mer.
Parties notwithstanding, being Taylor Swift's cats seems like a pretty sweet deal.
Citations: Taylor Swift's Cat at a Party Is All of Us at a Party (Entertainment Tonight)