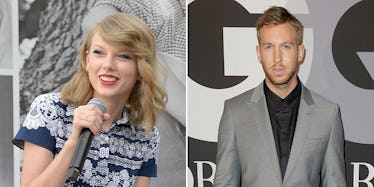 The Moment Taylor Swift And Calvin Harris First Met Will Make You Melt
Getty Images
Guys, February 24 was a very important date for Taylor Swift and Calvin Harris whether they realize it or not.
It's actually the anniversary of the first time they met! Isn't that adorable? It's been one full year since their first encounter. AWWWWWWW.
Apparently, the two lovebirds first crossed paths when Ellie Goulding introduced Taylor to Calvin. She must have known the two of them would be perfect together. Nice work, Ellie!
Even better, there's actually a photo of the exact moment Taylor and Calvin met. It's too cute for words and will make your heart melt to pieces.
OK, are you dying to see it?
ARE YOU REALLY DYING TO SEE IT?
LOOK AT THIS. DO YOU SEE THE WAY TAYLOR IS TOTALLY CHECKING HIM OUT?
The caption reads,
#tbt Last February's #ellestyleawards when I snapped @elliegoulding introducing @taylorswift to @calvinharris for the first time (with a cameo by @samsmithworld ) Happy anniversary, you two kids!
I bet Ellie and Sam Smith are both honored to have been a part of this special moment.
HAPPY ANNIVERSARY, CALVIN AND TAYLOR!
Citations: See the Exact Moment Taylor Swift First Met Boyfriend Calvin Harris (POPSUGAR)