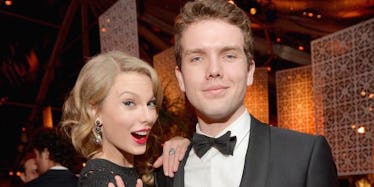 Taylor Swift Wished Her Little Bro A Happy Birthday In The Cutest Way Possible
Getty Images
If you think Taylor Swift couldn't get any more adorable, well, you'd be wrong.
On Friday, the superstar took to Instagram to wish her little brother, Austin, a happy birthday.
Along with the requisite "happy birthday" message, Tay posted a pic of the duo as toddlers, in what very well may be the best #FlashbackFriday post ever.
The photo shows the pint-sized pair sitting side-by-side with their heads thrown back in laughter. In contrast to the typical staged family photo, this snap seems to have caught the siblings in a moment of pure, honest joy.
Taylor's caption reads,
HAPPY BIRTHDAY AUSTIN!!!!!! Thanks for 24 years of LOLs.
It's simple, sweet and totally adorable. Guess we can add "ultimate big sis" to Swift's long list of accomplishments and accolades.
Check out the post below.
Citations: Taylor Swift Wished Her Brother Happy Birthday with the Most Adorable Throwback Photo (Cosmopolitan)