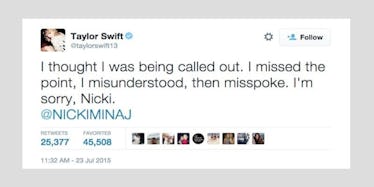 No More Bad Blood? Taylor Swift Apologizes To Nicki Minaj For VMA Beef
IT'S OVER! PEACE HAS BEEN RESTORED TO THE MTV VIDEO MUSIC AWARDS! LONG LIVE THE PEACE!
Taylor Swift just tweeted an olive branch to Nicki Minaj that will hopefully end the feud between the two.
I'll say it once, and I'll say it again: Taylor Swift has unrivaled diplomacy skills that would be invaluable assets to the United Nations.
I thought I was being called out. I missed the point, I misunderstood, then misspoke. I'm sorry, Nicki. @NICKIMINAJ — Taylor Swift (@taylorswift13) July 23, 2015
A few days ago, Minaj tweeted how she thought "Anaconda" got snubbed when it didn't get nominated for Video of the Year at the 2015 Video Music Awards.
If I was a different "kind" of artist, Anaconda would be nominated for best choreo and vid of the year as well./p>— NICKI MINAJ (@NICKIMINAJ) July 21, 2015
If your video celebrates women with very slim bodies, you will be nominated for vid of the year — NICKI MINAJ (@NICKIMINAJ) July 21, 2015
Taylor thought the tweet was a passive jab at "Bad Blood" receiving the nomination, and an awkward Twitter exchange ensued.
@NICKIMINAJ I've done nothing but love & support you. It's unlike you to pit women against each other. Maybe one of the men took your slot.. — Taylor Swift (@taylorswift13) July 21, 2015
But, that's all history now. Everyone loves each other again, and the world all of a sudden seems a little brighter.
Now, we wait to see how Katy Perry will make this about herself...
UPDATE: Nicki Minaj responded! I repeat, Nicki Minaj responded!
That means so much Taylor, thank you. @taylorswift13 — NICKI MINAJ (@NICKIMINAJ) July 23, 2015