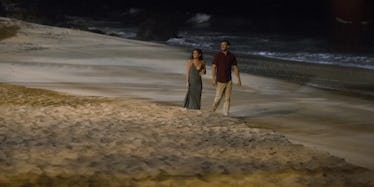 Are Derek & Taylor Still Dating? The 'Bachelor In Paradise' Couple Started Hot & Heavy
ABC/Paul Hebert
We're barely two weeks into this dramatic season of Bachelor in Paradise, but that doesn't mean we can't speculate about which couples found love for the long haul post-show, does it? There's definitely one pair to watch, and we're already wondering if Taylor Nolan and Derek Peth are still dating after Paradise. All signs lead to... well, maybe?
On Season 21 of The Bachelor, Taylor wasn't exactly a fan fave. You may recall the mental health professional went head-to-head in a war of words (and side eye) with Corinne Olympios. But whether you're #TeamTaylor, #TeamCorn, or #TeamWhatevs, it's clear that Taylor's sweeter side has come out when it comes to her budding relationship with the soft-spoken Derek.
Taylor and Derek's solid first date together surely laid the foundation for a lasting courtship. Taylor even spilled that Derek was "boyfriend material" and the two of them agreed on the reality of true love, finding a soul mate, or a "puzzle piece." Or something.
"I absolutely see the potential," Derek said regarding Taylor. And boom, kiss. But a kiss isn't where it definitely ended. "I think I want to spend the night with him," Taylor admitted.
He even built her an actual fire. And she posted about it as recently as this week... ah, memories.
As far as Derek's Twitter is concerned, he's still a Taylor fan. He responded to a tweet that said "I can't stand Taylor. But dammit, her and Derek are adorable together #BachelorInParadise" with a casual "Same..."
And if Taylor's  Twitter replies are any indication, her warm and fuzzy feelings for him haven't changed either.
Time will tell if these lover birds stand the test of time and become one of the duos that make it. When it comes to Daylor (Terek? We'll work on that nick name.), at this point in the game we're shipping this twosome hard.