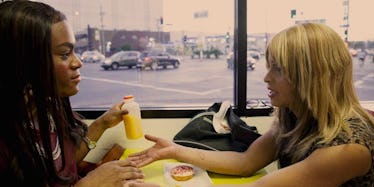 4 Reasons 'Tangerine' Is The Must-See Breakthrough Film Of The Year
Magnolia Pictures
As the year winds down, all eyes start to turn to awards season.
The films that are likely to be in contention for the biggest awards of the year are "Carol," "The Revenant," "Joy," "Inside Out" and "The Danish Girl," with the latter recently causing up a bit of fuss over the decision to cast Eddie Redmayne in a transgender role.
However, while I've yet to see some of the key contenders, I'm already able to say I have officially found my film of the year: "Tangerine."
Directed and co-written by "Starlet" director, Sean Baker, along with Chris Bergoch, the film takes a look at the lives of two transgender women, one of whom has been recently released from prison.
When she finds out her boyfriend has been sleeping with another woman, she goes on a determined mission across town to find the woman.
You can take a look at the trailer here.
It's an amazing film, and seems to be a future Oscar contender as well.
Here's why:
The lead actresses will amaze you.
When casting for the role, the production team was adamant that they found the right people who could tell the story of Sin-Dee and Alexandra.
Whilst visiting the Village at Ed Gould Plaza LGBT community center in Hollywood, they met Mya Taylor, a transgender actress.
Through talking, they learned that because she couldn't get a proper job, Mya had to become a sex worker, something she would have in common with her future character.
This is also something common to a lot of members of the trans community, as she told ThinkProgress earlier this year:
I hope that people see this is real. Trans people — not every trans person — but trans people are doing sex work because they can't get a job or anything.
When Sean Baker and Chris Bergoch realized how perfect Taylor was for the role of Alexandra, she was cast.
Through Mya, the team was introduced to Kitana Kiki Rodriguez, who would eventually play the role of Sin-Dee.
What will amaze you about these actresses is that this is the first acting role for both women, and if you hadn't been told, it's likely you wouldn't have been able to tell.
Both portray their characters beautifully, and you instantly fall in love with the dynamic they have with each other.
It's almost impossible to not care for them and their story.
The film was entirely shot on an iPhone 5s.
I'm not even joking.
The budget for the film came in at $100,000, and that was primarily down to the fact that the film was exclusively shot on three iPhone 5s smartphones.
The only support the iPhones got in terms of equipment and tools was an $8 app called FiLMiC Pro and a couple of clip-on lens and mounts.
This shows just how much can be done with that very phone in your pocket.
It's already winning awards.
As of right now, the film has knocked up a total of five world-renown awards, including the Stanley Kubrick award at the Traverse City Film Festival, alongside two Gotham Independent Film Awards for Breakthrough Actor (Mya Taylor) and the audience award.
Next up, the Oscars?
In an historic move, "Tangerine" will mark the first campaign for an Academy Award launched for openly transgender actresses.
While transgender roles are not new to the Oscars, they have always been played by cis actors, so Kitana Kiki Rodriguez and Mya Taylor will make history if they manage to get nominated for the Oscar. This would show another massive step toward full acceptance for the transgender community.
The script and cinematography are also being campaigned for Oscars awards, and rightly so.
"Tangerine" is a film that will not only make you smile and laugh out loud (seriously, it's so damn witty), but it will also break your heart.
It has the power to really make you feel for the characters you see on screen.
It's unbelievable how much a small film could not only make a massive mark in history and awards season, but also how it could stand for progress for the transgender community. The film represents a huge wall taken down for those wanting to get by in the movie industry.
For anyone who has yet to see "Tangerine," it's actually available to stream right now on Netflix USA.
Citations: "The Danish Girl" Casting (Slate), "Tangerine" Mya Taylor (Think Progress), "Tangerine" Shot On iPhone (The Verge), "Tangerine"Awards (Facebook)