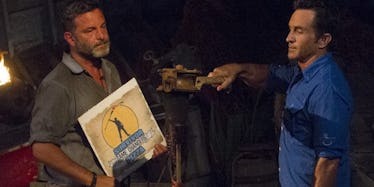 The 'Survivor' Contestant Who Outed His Castmate Was Fired From His Job
CBS
Unsurprisingly, Jeff Varner survives real life about as unsuccessfully as he survives reality television.
The "Survivor" castmember was fired from his job as a real estate agent last Thursday after his elimination episode aired Wednesday night.
On the episode, Varner attempted to save himself from elimination by revealing castmate Zeke Smith is transgender and suggested Smith's decision to play the game without making his transition a focal point was an act of "deception."
Naturally, the cast didn't take kindly to Varner's behavior and, once the episode aired last week, neither did his employer.
The Allen Tate Companies CEO, Pat Riley, told ET,
The Allen Tate Companies were built on core values of honesty, integrity and respect... Those fundamental beliefs led us to end our relationship with Mr. Varner, a real estate agent who had become affiliated with our firm just 17 days earlier. To be clear, at no time before the airing of the 'Survivor' episode on Wednesday evening was our management aware of his actions on that episode... We make all decisions such as this one with careful consideration of our clients, employees and our agents.
Cosmo reports Varner has spent the nine months since his elimination in therapy and engaging with "several LGBT organizations" in an effort to better understand how his problematic behavior affected the transgender community.
Smith, who wrote a powerful guest column for the Hollywood Reporter following last week's episode, also told People,
I think [Varner] hoped others would believe that trans people are dangerous and fraudulent... That reasoning is infinitely worse than him outing me because it's the same one used to discriminate against, attack and murder trans people. What's great is that nobody bought it. It's important people see he lost that fight... The message should be clear that hate will always lose.
Ultimately, Smith turned the attack into an opportunity to educate viewers (and Varner) on the trans experience and general human decency.
Varner might not have a job, but he certainly has some vital insight he lacked before.
Citations: Man Who Outed His Fellow Survivor Contestant as Transgender Fired from His Job (Cosmopolitan)