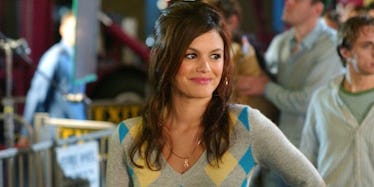 7 Summer Quotes From 'The O.C.' That Will Motivate Your Broken Heart To Heal
Warner Bros.
Summer Roberts from "The O.C." didn't give two fucks about showing her complete and utter, BRUTAL honesty to the world.
We all loved her for it; that's what made Summer such an iconic and relatable character. And LAWD help you if you were casually rocking chino — because, in Summer's words, "EW."
Along with best friend (and partner in crime) Marissa Cooper, Summer was queen bee. And so was her drop-dead fabulous wardrobe, complete with all the designer labels gals like us could only dream of having at our fingertips.
Fashion was just one of the many things Summer would never screw around with.
After watching her romance with her soulmate, Seth Cohen, blossom into a lifelong love, we knew our girl Summer was a true expert on all things love and life.
Here are seven Summer Roberts quotes from "The O.C." that will make you smile, and motivate your broken heart to heal… especially if you STILL aren't over the fact that the show is over.
1. "I have been crying actual tears over that ass, and he's been kissing randoms."
2. "That's funny. The tool doesn't know about tools."
3. "You know, it seems that you only want me when you can't have me."
4. "You like the chase, and that's all... so, you know what? You can have it."
5. "The more time I spend with Zach, the less times I think about ... God, what's his face?"
"...Built like a bean pole, curly hair, runs away like a little bitch on his sailboat, leaving nothing but a note for his girlfriend who cried over and over for him until the Fourth of July when she decided she doesn't cry over bitches on boats."
6. "You have to find the stud."
7. "Even grown up, we are all 15 at heart."
It's clear Seth and Summer's different personalities and interests complemented each other throughout the show, and they ended up making a pretty rad couple. They experienced many ups and downs, along with a couple of love triangles.
For real, though: That Spider-Man kiss, complete with "Champagne Supernova" streaming through our TV speakers, made us all crave a love like Seth and Summer's beyond compare.
In the end, they tie the knot in the series finale, "The End's Not Near, It's Here," and we all bawled into our pillows for days because it was so damn beautiful.