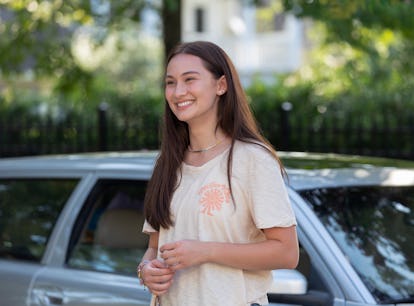 Taylor Swift Debuted Her Next Song In The Summer I Turned Pretty's Teaser
Is this the series of the summer *and* the song of the summer all at once?
Amazon Studios/Prime Video
With the success of the To All The Boys trilogy on Netflix, it was only a matter of time before more of Jenny Han's books were scooped up for adaptation. But to fans' surprise, the announcement for more Han rom-coms didn't come from Netflix. Instead, it is Amazon Studios that has swooped in, grabbing the rights to Han's trilogy that came out prior to TATB. These The Summer I Turned Pretty details will get fans excited for a brand new story, this time adapted to series instead of a film trilogy.
The Summer I Turned Pretty was Han's first big hit novel and the start of her first major YA trilogy. Released in 2009, the book series revolves around Isabel "Belly" Conklin and the summers she spends at "Cousin's Beach," with her brother Steven and mother Laurel. Her mom's BFF, Susannah, also spends every summer at the beach with her family, including sons Conrad and Jeremiah. Over the course of three books, a love triangle forms between Belly, Conrad, and Jeremiah as she navigates growing up.
The follow up books, It's Not Summer Without You and We'll Always Have Summer were also major bestsellers. This suggests that if The Summer I Turned Pretty is a hit for Amazon, it could run several seasons.
But alas, I'm getting ahead of myself. Here's what's known about the series so far:
The Summer I Turned Pretty Season 1 will hopefully premiere sometime in 2022 on Prime Video. Season 2 is not yet greenlit. Jenny Han's other streaming adaptation, To All The Boys, is available on Netflix.
This article was originally published on