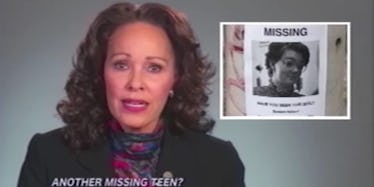 This 'Stranger Things' News Broadcast Cares About What Happened To Barb
YouTube
If you're reading this, Duffer Brothers, I only have one thing to say to you... Bring back Barb.
One aspect of "Stranger Things" that makes the show so terrifying is the stakes that are unbelievably high for the group of children going up against two different types of monsters: the Demogorgon from the Upside Down and the evil government officials working at Hawkins Lab.
When they scream, we scream.
When their parents freak out and talk to Christmas tree lights, we freak out and talk to Christmas tree lights.
This type of reaction to the endangerment of our main characters is the rule throughout the show... except when it comes to Barb's disappearance.
WHY DOES NO ONE CARE ABOUT BARB?
Suuuuure there will, Hopper.
While the entire town of Hawkins went on a manhunt looking for the slug-vomiting Will Byers, everyone else was like, "Barb? Who's Barb? Eh, I'm already tired of this conversation. Let's keep looking for Will."
Well, one Hawkins-based newscaster Brenda Wood has decided to ask the hard-hitting questions in a segment called "Minute by Minute."
Based on her reporting, one thing's for sure. Brenda gives a damn about where the fuck Barb went.
The newscaster also said Barb's friends describe her as "someone who was loyal to a fault to Nancy, the kind of girl who notices if you're wearing a new bra and can really rock a pair of mom jeans, or as we call them now: jeans."
Barb is the hero that Hawkins deserves.
On top of that, Brenda went on to praise Barb's fashion, calling her classic eyewear "an oversized pair of absolutely fantastic glasses."
The newscast also covered Eleven's shoplifting and even provided security camera footage of her Eggo waffle heist.
L'Eggo, Eleven's Eggo, y'all.
I sincerely hope there will be "justice for Barb." Truly.
And it's journalists like Brenda who give me faith that we might be able to bring some closure to her Missing Persons Report.
Citations: New Stranger Things Video Drops Major Hints For Season 2 (Refinery 29)