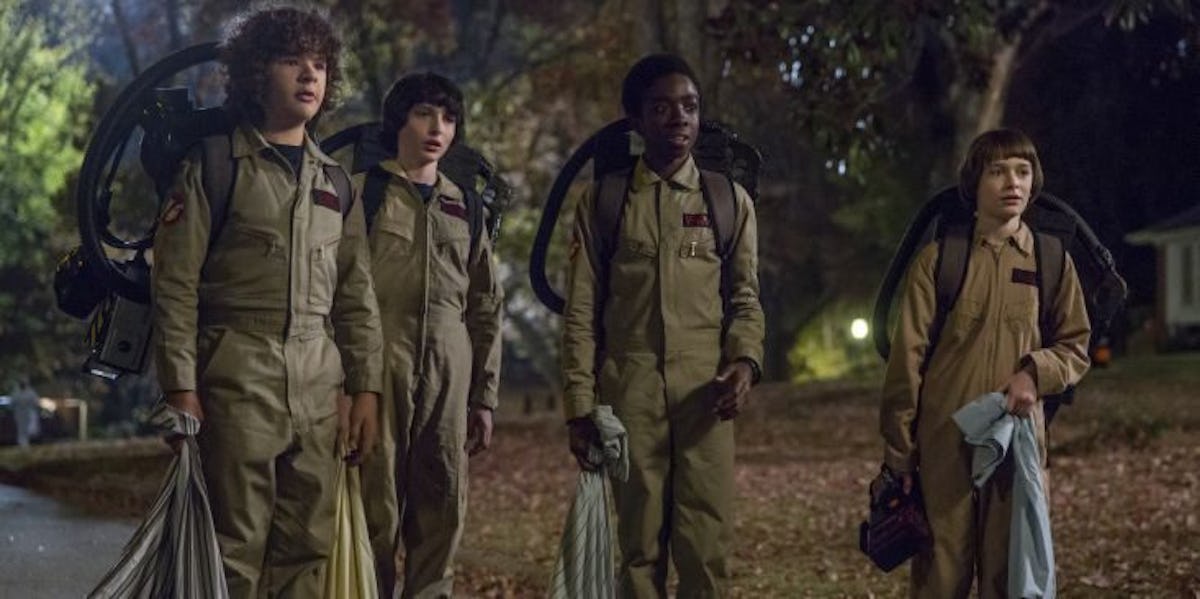 New 'Stranger Things' Details Will Make You Even More Excited For Season 2
Netflix
For most people, the coming of October is all about Halloween, Ocktoberfest, autumn leaves and pumpkin spice. But this year, we've got an extra bonus special courtesy of Netflix: October means a return to Hawkins, Indiana, the Upside Down, and Stranger Things Season 2. But with Stranger Things' first season being such a contained story, fans are wondering exactly what more there is to tell about the quiet little Midwestern town. What new horrors could possibly be in store? Thankfully, creators the Duffer brothers have given us a sneak peek into what Stranger Things Season 2 is about.
But first, a quick reminder: When we last left our pint-sized heroes, it was winter of 1983, Will Byer was home, Nancy was still dating Steve (but thankfully both are now friends with Jonathan Byers). Eleven was back in the Upside Down. Barb was still dead.
As for Season 2, we know it's a year later, Halloween of 1984, just before the Reagan landslide against Mondale. Will seems to have PTSD from his time in the Upside Down. And while Joyce Byers is trying desperately to act as if the phrase "we have normality" (and anything you still can't cope with is, therefore, your own problem) will somehow ever apply to her family again, something is out there.
According to the Duffer Brothers, one of the biggest changes is the one you're hoping for: This isn't a rerun of last year's plot. No 11-year-old boys will be going missing in the first 15 minutes of the first episode. And because of that, there's more opportunity to just hang out with our four main characters being 12-year-olds in a time of Ghostbusters, video game arcade, and nemesis named "Madmax."
It allows us to experience these characters more in their normal life for a bit, and have some fun with them. But then once things go wrong, we really escalate the stakes quickly, and it gets pretty crazy toward the end.
There's also no more mystery about the Upside Down's existence, or what it is, or how to get to it. The lab is still there. Dr. Owens is still running things (and spying on everyone and everything) while keeping the portal open. This means Chief Hopper has the headache of trying to keep the events of last year quiet -- along with any other random weirdness that pops up that could potentially be the Upside Down (or you know, just teenage boys getting into trouble).
But it also means the show now has the chance to start expanding on the entire mythology of the Upside Down, not just as a fun '80s sci-fi trope, but what the government is actually doing with it — how did they find it exactly, why are they keeping it open, and if it relates to the Cold War or not. (One assumes the "Reagan Bush" signs in the trailers are just background decor for time and place, but some of the late Cold War insanity that flourished under his administration could come into play.)
It also means more of everyone's favorite baby girl psychic, Eleven. But the Duffers warn us, her tropes this season aren't going to be nearly as straightforward as last year.
I think her journey this season... is not what people will be expecting. We discovered how incredible Millie Bobby Brown was last season, so we're really leaning into her a lot this season, and putting her into some pretty intense places. And she crushed it.
Stranger Things Season 2 isn't the only return to Hawkins the Duffers are hoping to get. If this one does as well as the last, the Duffers have plans for a third season -- going as high as Season 4 or 5 before wrapping it all up.
Stranger Things Season 2 hits Netflix with nine episodes on Friday, Oct. 27, 2017.