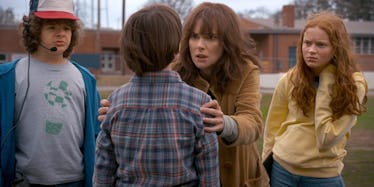 'Stranger Things' Character Posters Introduce A New Character & We Have Questions
Netflix
Another day, another Stranger Things tease. Season 2 is upon us -- we only have a few months until our return to Hawkins, Indiana for a second round of supernatural disturbances and spooky fun. But there's still some time before that creepy '80s theme will play and our hearts beat just a little bit faster, so we're analyzing the clues we have available to us while we wait. And these new Stranger Things character posters for the upcoming episodes are pretty much what we needed to hold us over... plus, they open doors to more questions.
Practically every major character gets their own image promoting Season 2. Everyone has a similarly inquisitive, skeptical, or almost surprised look on their faces and there are the words "It only gets stranger..." printed on each of them.  There are posters for our old buddies Dustin, Lucas, Mike, and Will. There's momma Joyce (sans Christmas lights,) Chief Hopper, Nancy, Steve, and Jonathan. And don't forget Eleven! No Barb, we guess... Didn't think so.
But there are also two faces that might not look quite as familiar. We get glimpses of Billy and Max, the newest kids on the Hawkins block. Billy is "a mean guy," according to Director Shawn Levy's comments to TV Guide. "He has prejudices that are ugly. He treats his younger sister in a mean, controlling, bully-ish, domineering fashion. So he's is just bad."
Here's a closer look at the villainous Billy (Dacre Montgomery), or as we like to call him: The boy with the drop earring. Why is he looking down? He doesn't even look that scared, TBH.
But who is his sister? That would be Max, played by Sadie Sink, a character who has been described as a "tough and confident" 13-year-old girl. The season premiere is even entitled "Chapter Nine: MadMax," so we already know that she'll play a major role early on.
We're creeping closer and closer towards the Oct. 27 and with all these visual breadcrumbs, it only gets stranger, indeed.