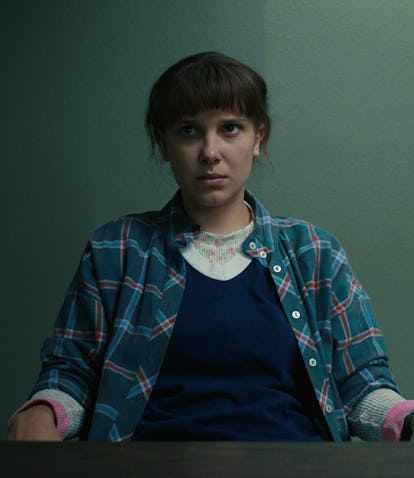 9 Stranger Things 4 Behind-The-Scenes Facts That'll Turn Your Head Upside-Down
Sometimes the truth is *stranger* than fiction.
Netflix
Ever since the Duffer brothers announced Stranger Things Season 4 would be released in two parts, critics and fans alike have wondered what changed the release schedule. From theories that it was Netflix testing out ways to elongate the show's release cycle to theories about significant plot twists in the season finale, it seemed anything could be responsible. But the truth behind the decision is only the beginning of the numerous Stranger Things 4 behind-the-scenes facts about the new season.
Warning: Spoilers for Stranger Things 4, Volume 1 follow. It's no secret that Stranger Things 4 was delayed, beginning with it taking Netflix nearly three months to greenlight it due to the show being tied to a much larger overall deal with the Duffers. Those delays snowballed until the show arrived almost a year after fans initially expected it.
The decision to split the show into two parts, with the first seven episodes arriving on May 27 and the last two on July 1, was solely due to how long it took for the season to be ready. Executive producer Shawn Levy explained to The Hollywood Reporter, "We didn't think nine episodes were going to be ready in time, and we have made the world wait long enough. We always knew that if we could deliver the first seven, it's such a satisfying breaking point and pay-off moment that it'll keep people fed for enough weeks so we can finish up Volume 2."
Levy continued: "It also gives us time to stick the landing by finishing the last two episodes really strongly. As you've already now seen, this season relies on next-level visual effects and world-building, and as you can imagine, Volume 2 is very ambitious in its storytelling, and we need a little more time to finish strong."
But this wasn't the only behind-the-scenes detail for fans to uncover. Here's a rundown of several more secrets behind the making of this season.
Stranger Things Seasons 1 through 4, Volume 1 are streaming on Netflix. Volume 2 arrives on July 1.