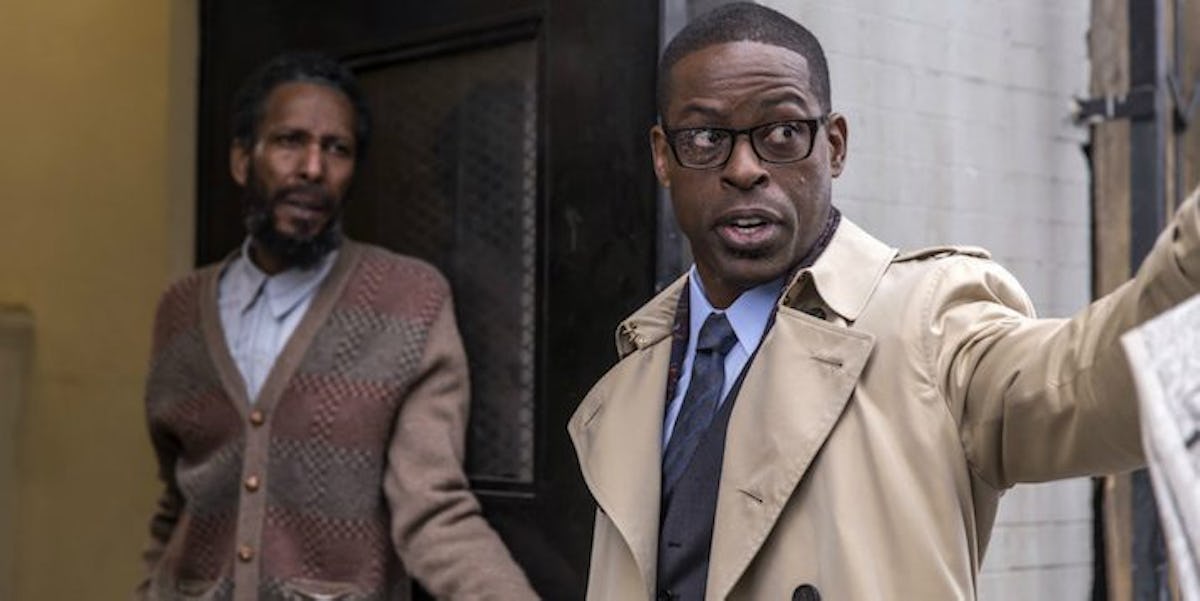 'This Is Us' Star Sterling K. Brown Is Married To Another Actor And She's Gorgeous
NBC
This Sunday's Primetime Emmy Awards will see a host of new Outstanding Dramas nominated for the first time. Out of seven shows nominated, five were debuts this past year, including the NBC family drama This Is Us. This is Us also spawned several nominations in the Lead and Supporting categories, including two for Lead Actor in a Drama that went to Milo Ventimiglia and Sterling K. Brown. But who will they be bringing to the red carpet as their dates? We know Ventimiglia is dating Kelly Egarian, but who is Sterling K. Brown's wife?
It turns out that unlike Ventimiglia, who is very deliberately not dating a co-star on the show (for the first time in a while), Brown is actually married to one. But it's not because he met her on the set and they somehow raced to the altar between the time the show started filming, and the Emmy Awards Red Carpet.
Brown is married to fellow actress, and his college sweetheart, Ryan Michelle Bathe, and has been for over a decade. It just so happens that the two of them both got cast in the new NBC drama This is Us together, her as Yvette and him as Randall Pearson.
Both Bathe and Brown have been working actors in Hollywood since 2001. He was lucky early on and landed the show Third Watch for a while, before doing a season of Supernatural and then moving to Person of Interest and also Army Wives. His first major breakout role was in last year's American Crime Story, ahead of starring in the This Is Us ensemble. We expect his name to climb further next February when Black Panther comes out, in which he plays N'Jobu.
Meanwhile, her first hit came on the show Girlfriends where she played Traci Blackwell. This was followed by the short lived network series Trauma and then a season in Army Wives on Lifetime, before landing the recurring role of Yvette.
Ironically, though Brown's role as Randall Pearson is known for an honest portrayal of African American relationships and all their complexity in our society (a rare thing to show on TV), Bathe isn't playing his wife. Her recurring role is one that appears in flashbacks, as the mother of one of Randall's friends back when he was a kid. That's certainly one way to do a work life balance and be cast on the same show -- never do any scenes together.
In real life, the two of them make a gorgeous couple, both on the red carpet and off. Check them out at this year's SAG Awards:
And then there's stuff like this on Brown's Instagram.
Bathe doesn't have Instagram, but on her twitter she calls herself "First of her Name," which anyone who is gunning for the Iron Throne like that deserves mad respect.
If these are the kinds of red carpet stories the two of them are going to tell when they show up together and hit the interview circuit, then This Is Us should find a way to keep Ryan Bathe around on the set for as many seasons as they can. This is the stuff that publicists dream about their clients being able to do.
This Is Us needs all the good press they can get going in, with such a tough line up of competitors for their first nomination. They're going us against other first timers The Crown and Stranger Things (both from Netflix) Westworld (from HBO) and The Handmaid's Tale (from Hulu.)
Stranger Things and Westworld already have the lead on wins from the Creative Arts Emmy Awards last weekend. But if This Is Us can take Best Drama, it will be the first for a network show since 2006, when 24 took home the gold. Let's wish them good luck.