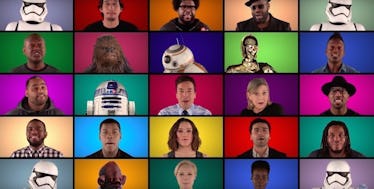 The 'Star Wars' Cast Did An Epic A Capella Version Of The Theme Song (Video)
Jimmy Fallon has officially lived the dream of any child who hoped to one day stage an a cappella medley of songs from John Williams' "Star Wars" score featuring the cast.
Harrison Ford, Carrie Fisher, Daisy Ridley, John Boyega, Lupita Nyong'o, Oscar Isaac, Adam Driver and Gwendoline Christie joined Fallon and The Roots for a "The Brady Bunch"-style sing-off.
BB-8, R2-D2, Chewbacca and C-3PO also lent their voices and, in some cases, pitches, to the mix.
The video finally gave Fallon a use for either the eight Stormtrooper costumes he had tucked away or the one Stormtrooper costume everyone in NBC's Studio 6B shares.