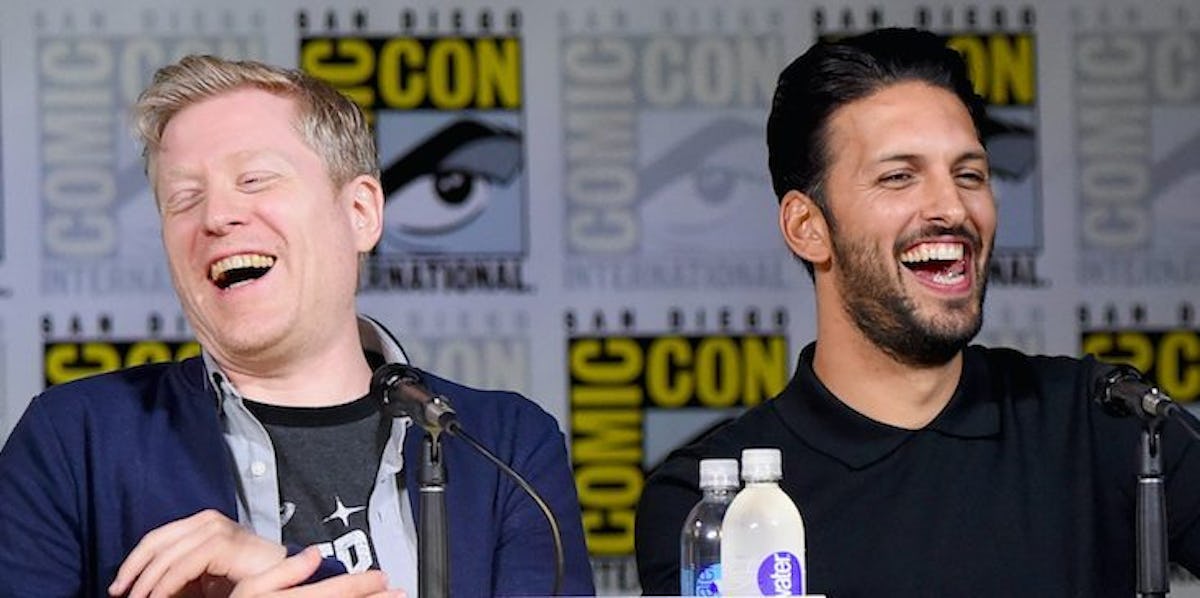 'Star Trek' Officially Has Its First Openly Gay Character & Fans Are So Here For It
Mike Coppola/Getty Images
Gather round, Trekkies, we've got some exciting news. If you're a true fan of the franchise, you should know by now Star Trek is coming back to television this fall with its newest installment, Star Trek: Discovery. Obviously, 50 years after the show's initial premiere, this news has fans overjoyed, because with a new chapter comes new missions, new stories, and, of course, new characters to keep the story moving forward. That being said, Star Trek has its first openly gay character, Lt. Stamets, debuting on Discovery this fall and I, for one, could not be more thrilled.
Entertainment Weekly was given an exclusive first look at the character played by former Broadway star Anthony Rapps, and  Lt. Stamets seems like exactly the kind of addition the franchise needs to keep things from getting stale. So far what we know is Rapps' character is an anastromycologist — or, in less confusing terms, a fungus expert — who will play a major role on the series, and, for the first time in the show's running, audiences will get to see more of the characters' interpersonal relationships; this, of course, includes Lt. Stamets, who's in a relationship with another member of the crew.
In discussing the series and Rapps' character with EW, Aaron Harberts, the Star Trek: Discovery showrunner said,
We're at a point in time where people aren't defined by their sexuality. What's fascinating about the character is that when we meet him we don't know who or what he is. He's so super specific, he's persnickety and difficult and brilliant, and he isn't going to give an inch and he has very strong feelings about why he's on the Discovery. We wanted to roll out that character's sexuality the way people would roll out their sexuality in life.
Though Harberts is right to say "people aren't defined by their sexuality," it's still encouraging to see an openly gay character introduced to a fandom that spans decades, and in a way that is not superficial or crass. Indeed, it already seems as if Lt. Stamets will have all of the complexities and nuances of any prominent Star Trek character from previous installments, which is the real win here today. Not only are we getting a gay character, we're getting a developed, dynamic gay character played by a gay actor, all of which speak volumes towards the push for representation and inclusion in mainstream media.
Anthony Rapps had his comments on the role of Stamets in Discovery, as well. When EW spoke with him, he told them,
I'm really excited and happy when a gay character is a part of a story — especially when a gay character is created in a complex and human and non-stereotypical, interesting way. And you get to see his relationship... we actually get to see me with my partner in conversation, in our living quarters, you get to see our relationship over time, treated as any other relationship would be treated.
Rapps's on-screen partner will be played by Wilson Cruz and I'm already looking forward to seeing these two together.
On another note, if you're not already beaming with excitement, you should know Star Trek: Discovery's push for diverse representation doesn't stop with this LGBTQ couple. Indeed, the show will feature a black, female lead for the first time ever as Sonequa Martin-Green will be playing First Officer Michael Burnham.
A lot to take in, and even more to be excited for, I know. A whole new generation of Star Trek fans will be able to see themselves in major characters on a mainstream show. Hopefully, this is the beginning of a long line of shows that will follow suit. I guess all I can say to end right now is Star Trek, you're doing amazing, sweetie!