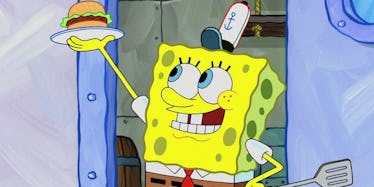 'Spongebob' Cast Squashes Krabby Patty Theory With The Real Formula – EXCLUSIVE
Nickelodeon
Attention, all Spongebob Squarepants fans: our prayers have been answered. We finally have an idea of what the famed Krabby Patty is made out of.
If you've been on the internet at all over the past few weeks, I'm sure you've heard the latest viral Spongebob fan theory that says Krabby Patties are made of crab. If you haven't, let me get you up to speed.
Basically, a fan realized that most other items on the Krabby Patty menu are made out of the actual ingredients in their title -- the kelp shake has kelp, for example. The Krusty Krab itself is also shaped like a crab trap. AND, have you ever seen any crabs in Bikini Bottom, besides Mr. Krab and his mom? NOPE!
Nickelodeon debunked the theory earlier this month on a viral Instagram post, writing, "We can 100 percent confirm Krabby Patties are not made of crabs." Now, the Spongebob cast is weighing in, too.
I sat down with Mr. Lawrence (story editor and voice of Plankton) at San Diego Comic Con where he told me,
Yeah, that is so dumb. It's vegetarian! It's always been vegetarian. It's never been meat. They're underwater, there's no burgers down there.
Lawrence also revealed the only meat found in Bikini Bottom is at the Chum Bucket.
Lawrence told me that the Spongebob writers actually make it a point to keep swimming fish, and dead fish, out of the Bikini Bottom world. He said,
In gags and stuff, you always run across wanting to do someone eating fish or there's a skeleton fish. We can't do those, and sometimes artists just draw them in … because forget we're underwater. We're in another location where you can't do certain things.
So what is the Krabby Patty really made out of? It's vegetarian, after all. Tom Kelly, voice of Spongebob, joked:
Krabby Patties are hummus!