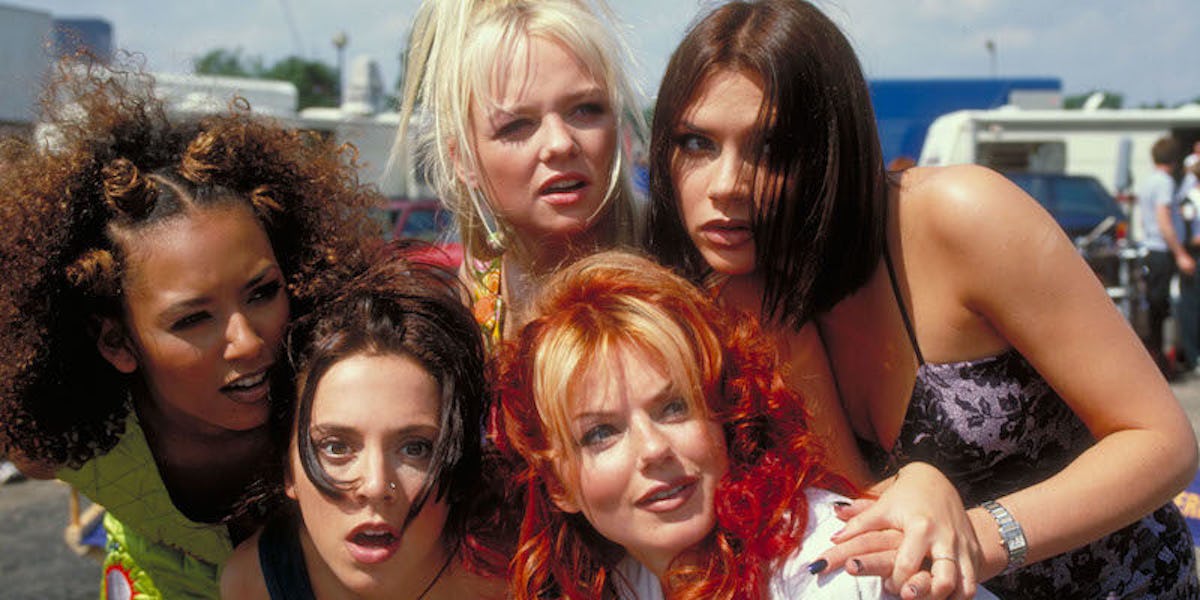 5 Hacks From The Spice Girls To Get You Out Of Any Fashion Emergency
PolyGram Filmed Entertainment
Let's talk about the ladies who invented "girl power," and how they changed style for all the girls who grew up in the '90s. Yes, I'm talking about the fab five: The Spice Girls.
From sporty to scary, together, the Spice Girls gave us a way to look good, no matter what the event might be. Even today, I channel my inner Spice Girl to get ready for all the events life may throw at me.
Here's how:
1. Baby Spice
In her pastels and brightly-colored patterned dresses, Baby Spice is an amazing style icon to channel for things like baby showers, bridal showers or bachelorette parties. A little pink dress with white heels? Yes please.
Prepare for all the compliments at any of these events by simply trying soft, happy colors and interesting shoes.
2. Scary Spice
Metallics, animal prints and rompers: Scary Spice took us to the club. She has helped us get ready for a night out on the town with our girls.
She also rocked her natural hair, and she looked super sexy while doing it. She was edgy and cool.
She looked amazing in things we wouldn't normally pick out for ourselves, which gave us the confidence to try on things that looked less than hot on the rack. A metallic crop top with patterned pants? Thanks to Mel B, we're in.
3. Sporty Spice
On Saturdays, we wear spandex, and it's all thanks to Sporty Spice. Mel C made it acceptable to wear athletic gear in public.
Who knew track pants could look so chic? She's helped women who wouldn't have otherwise known how to look cool at the basketball games.
She effortlessly fit in as one of the guys and one of the girls, which isn't as easy as it looks. Fit, gorgeous and comfortable, she has everyone's heart beating fast.
4. Posh Spice
Nothing says sweet, sweet revenge like a little black dress, and Posh Spice knew this all too well. We've channeled her through breakups. We've also strangely channeled her at job interviews, and she's been our guide to simply living in New York City.
Although she sported the simplest look, she was considered the most stylish of the five ladies. Years later, she still hasn't gone out of style.
In fact, Victoria Beckham even owns her own fashion line now. Get it, girl.
5. Ginger Spice
For our bedroom looks, we choose to channel Ginger. This woman rocked a corset better anyone else in the '90s. She reminded us of a red-haired Marilyn Monroe.
Both on and off the stage, Geri Halliwell owns her sexy. She's strong, confident and the definition of girl power. She also made the British flag the sexist of them all, which is not an easy feat.
These women were able to appeal to all of our alter egos. Together, they made up one super human: the woman in all of us.
Sure, we might not be able to walk in those platform shoes, but we don't have to. Taking a few tips from your chosen Spice Girl of the day will have you rocking confidence in no time at all.
All of these women managed to look amazing, and it was because they owned their confidence. This is the biggest fashion takeaway of them all: Be confident in yourself, and don't be afraid to switch it up every now and then.
Now, go organize your closet in five sections: Baby, Scary, Sporty, Posh and Ginger. This will help you prepare for everything that comes your way.
Thank the Spice Girls for helping you take fashion by the balls, and watch "Spice World" over and over (and over) again. You know you want to.