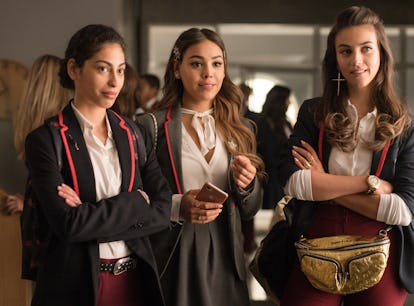 25 Spanish-Language Shows On Netflix You Should Be Watching RN
Some are wildly popular; some are hidden gems.
Netflix
There should be a support group for people overwhelmed by the amount of content available on Netflix. The streamer has something for pretty much everyone, but you have to be able to narrow down what you're interested in — and you have to know where to look. For example, you may not know there are a ton of Spanish-language shows on Netflix that you can watch right now. Some are popular hits, while others may not be on your radar (yet); either way, they're worth checking out ASAP. Oh, and if you don't speak the language, there's always the subtitles option.
Just like with English-language shows, there are Spanish-language options in every genre on Netflix. If you're a fan of drama, Narcos might be up your alley. If you prefer something lighthearted, check out Go! Live Your Way, which documents a teen's life at a performing arts school. If want to watch a classic telenovela, you can check out Silvana Sin Lana, which is about a woman who loses everything when her fugitive husband flees the country. Basically, whatever you're into, Netflix probably has a Spanish-language show for you.
Here's a list of 25 great Spanish-language shows on Netflix to get you started:
This article was originally published on