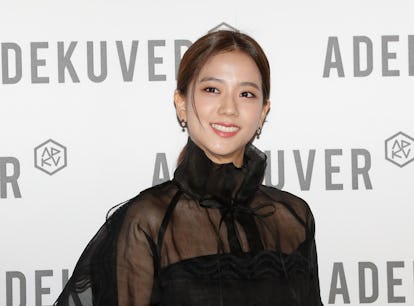 BLACKPINK's Jisoo's K-Drama Snowdrop Will Hit Disney+ So Soon
Han Myung-Gu/WireImage/Getty Images
Fans have been waiting excitedly for BLACKPINK's Jisoo to make her acting debut ever since YG Entertainment announced she was cast in the Korean television series Snowdrop in August 2020. The show finally premiered in Korea on Dec. 18 and concluded on Jan. 30. Just a day after its big finale, Disney+ has announced the series is coming to the platform for fans in the United States.
While Jisoo made cameo appearances on series like The Producers and Arthdal Chronicles through the years, her role in Snowdrop marks the first time she's the leading actor. She portrays a university student named Young Cho, who is majoring in English literature. Rumors about Jisoo's involvement in the series first began in August 2020 when the Korean publication MyDaily reported she was cast as the female lead. Soon afterward, Soompi reported that YG confirmed Jisoo's appearance in the series.
"It is true that Jisoo is starring in the new drama Snowdrop," YG said, according to Soompi.
With the show now headed to Disney+, Snowdrop's audience may soon grow. If you've been eager to watch Jisoo's K-drama, here's everything you need to know about Snowdrop.
When will Snowdrop premiere?
Snowdrop had its two-episode premiere on the Korean television network JTBC on Dec. 18 and 19, 2021.
Where can I stream Snowdrop?
Snowdrop began streaming on Disney+ in Korea, Hong Kong, and Taiwan in December. On Jan. 30, the platform announced the series will also be available in the U.S. starting on Wednesday, Feb. 9.
Who else is in Snowdrop?
Snowdrop includes a star-studded cast. Jung Hae In, who's acted in shows like Something in the Rain, Tune In For Love, and While You Were Sleeping, stars opposite Jisoo as Im Su-Ho. His character is a student who ends up getting hurt and runs into Jisoo's character, who falls in love with him at first sight. Sky Castle actress Kim Hye Yoon is also part of the cast, and she portrays a telephone operator named Kye Boon Ok. Meanwhile, Encounter star Jang Seung Jo plays Lee Kang Moo, a security agent. Finally, Yoo In Na, who you've seen from Goblin and Touch Your Heart, takes on the role of a surgeon who's hiding a secret.
What's Snowdrop about?
Snowdrop is set in 1987 during South Korea's Democracy Movement, which was a mass protest that would lead to the end of authoritarian rule and the establishment of South Korea's present-day democratic government.
The show follows graduate student Im Su-ho (Jung Hae-in) who, after participating in a pro-democracy protest, is discovered covered in blood by Im Su-Ho (Jisoo). She discovers him at a women's university and hides him from the government. A romance unfolds between them, but it's soon revealed Su-ho is not who he appears to be.
Are there any Snowdrop teasers?
JTBC revealed the first promo for Snowdrop on Aug. 17. It features Jisoo and Jung dancing. The clip described the series as a "pure love story that transcends time."
On Oct. 5, fans got another sneak peek of the show through a new teaser poster. The image showed Jisoo and Jung gazing at each other while posing on an empty dance floor. It seemed to capture a moment from the show when the two leads are attending an open house party. Jung could be seen wearing a dapper blue suit, while Jisoo is wearing an elegant pink dress. According to Soompi, the text on the poster reads, "The blooming of radiant first love."
The poster offers major La La Land vibes, giving fans yet another reason to be excited about the show.
The first official teaser trailer for Snowdrop arrived on Thursday, Oct. 14. The 30-second clip begins with shots of Hosu Women's University. Viewers then see Su-Ho riding his bike through the streets as it begins to snow. According to Soompi, Su-Ho says through a voiceover, "I'm sorry. It's because of me." In the final few seconds of the trailer, Su-Ho and Cho run into each other and their hands touch. "I miss you. I wish I could see you just once," Cho says in character.
Although the clip only gave a small glimpse of Jisoo's acting in the show, it was enough to send fans into a frenzy. Watch the teaser for yourself below.
This article was originally published on