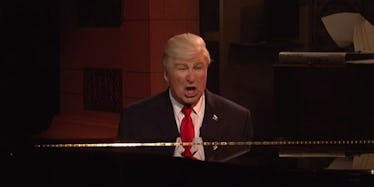 The 'SNL' "Hallelujah" Finale Skit Is The Comfort We All Need Right Now — VIDEO
YouTube
"SNL" tries to keep the faith during the season finale's cold open.
The skit begins with our commander in chief (aka Alec Baldwin) singing "Hallelujah" at the piano.
It's the best version of "Hallelujah" you'll ever hear. It's so great; everybody loves it.
It isn't long before Kellyanne Conway — played by our girl Kate McKinnon — is let out for a quick appearance with Trump (and even a quick kiss on the forehead).
We know how much she loves being in the news, so she definitely couldn't miss this opportunity.
What would the best version of "Hallelujah" known to man be without Trump's sons?
Of course, Eric and Donald Jr. swing by, looking as thrilled as ever.
It isn't long before the rest of the administration joins Trump for a quick tune.
We can't help but notice that Spicey is missing, but Sarah Huckabee is here. Uh-oh! Is this a sign of trouble in paradise for Spicey?
Thankfully, Ivanka — played by Scarlett Johansson — truly turns a good performance into a great performance like the working woman that she is. Brava!
As the song finishes, Trump leaves a quick message for everyone watching — and, really, who wouldn't be watching his stellar performance?
"I'm not giving up because I didn't do anything wrong, but I can't speak for these people."
OK, good! At least we know he's in the clear, right?
The piano skits seem to be a go-to for "SNL" when things go haywire in the political world.
Just a few months ago, Kate McKinnon played Hillary Clinton sitting at the piano after her election loss, reminding people not to lose hope. Ultimately, that performance was met with a lot of criticism.
The cold open on May 20 comes in the wake of Trump's visit to Saudi Arabia and a bit of chaos on the home front while some call for his impeachment.
As much as we love these "SNL" skits, hopefully things will take a turn in the White House for the better and our favorite comedians will find new inspirational material.
Watch the opener below.
Citations: Hallelujah Cold Open - SNL (YouTube)