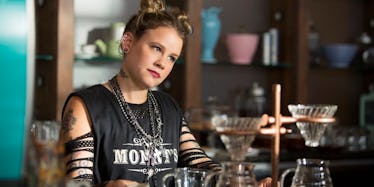 Skye From '13 Reasons Why' Looks Unrecognizable Out Of Costume
Netflix
The cast of 13 Reasons Why collectively went from being a group of relatively unknown actors and actresses to some of the most recognizable faces in the world for young adult viewers, but you might not recognize one of the show's stars out of costume.
In order to play Clay Jensen's estranged friend Skye Miller, Sosie Bacon had to go through a radical transformation to look like she was just spit out of a Hot Topic. In real life, Sosie doesn't have any of the tattoos, piercings, or the dramatic goth wardrobe Skye does.
Take a look at what Sosie looks like when not in full Skye makeup:
And while it's definitely cool for 13 Reasons Why fans to see what Skye looks like without her tattoos and piercings, the actual most shocking thing to find out about Sosie Bacon is that she has a very famous family.
As you may have already guessed from her last name, Sosie's father is none other than Kevin Bacon. She's the daughter of Kevin Bacon and Kyra Sedgwick -- so basically, she's Hollywood royalty, and she will also win any game of Six Degrees of Kevin Bacon she plays.
Prior to her success in 13 Reasons Why, Sosie did a run on her mom's TV series The Closer and recently recurred on MTV's Scream. And currently, she's lined up to star in an upcoming HBO family drama from Alan Ball.
But what 13 Reasons Why fans most want to know is what role Skye will play in Season 2. With the way that the first season ended — Clay noticing the cutting marks on Skye's wrist and deciding to drive off with her — there's definitely potential for Skye to become a more central character in the new season.
Season 2 of 13 Reasons Why isn't slated to premiere until next year, so Sosie Bacon has some time to enjoy her clear, tattoo-and-piercing-free face for a while longer.