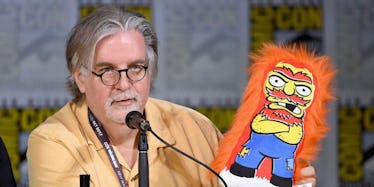 The 'Simpsons' Creator Has A New Animated Show Coming To Netflix With 'Broad City' Star
Mike Coppola/Getty Images
Just in case you don't have enough adult cartoons in your life, the creator of The Simpsons has a new animated Netflix series in the works, starring Broad City's Abbi Jacobson. Deadline reports that the new series, Disenchantment, will premiere in 2018 with a 10-episode Season 1. The show is also already locked in for a 10-episode Season 2, reports Deadline.
Disenchantment will be a fantasy set in a deteriorating medieval kingdom called Dreamland. The cast of characters will be a drunkard princess Bean (Jacobson), her elf friend Elfo (Nat Faxon), and her demon friend Luci (Eric Andre).
If Disenchantment has a run anything like The Simpsons' near-30-year milestone, Abbi Jacobson pretty much has a job for the rest of her life.
Matt Groening, known for creating both The Simpsons and Futurama, has been working on this new animated series with Netflix for over year — a long time for an animated show.
Groening said of his new fantasy-comedy show,
'Disenchantment' will be about life and death, love and sex, and how to keep laughing in a world full of suffering and idiots, despite what the elders and wizards and other jerks tell you.
John DiMaggio, Billy West, Maurice LaMarche, Tress MacNeille, David Herman, Matt Berry, Jeny Batten, Rich Fulcher, Noel Fielding, and Lucy Montgomery will also be joining the cast.
Cindy Holland, VP Original Content at Netflix, said of the show,
Matt Groening's brilliant work has resonated with generations around the world and we couldn't be happier to work with him on Disenchantment. The series will bear his trademark animation style and biting wit, and we think it's a perfect fit for our many Netflix animation fans.
Netflix has already seen success with its original animated series Bojack Horseman, which is scheduled to premiere its fourth season on September 8.
Disenchantment will be animated by Rough Draft Studios, the same studio that does Futurama. So if you're looking for animation similarities, turn to Bender, not Bart.
Meanwhile, Groening will continue to work as executive producer of The Simpsons, and Jacobson stars in the upcoming Season 4 of Broad City, set to release September 13th.