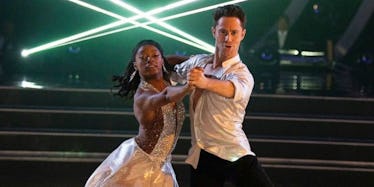 Simone Biles Says 'DWTS' Is Harder Than Olympic Training, Still Steals The Show
ABC
Monday night, Olympic gymnast Simone Biles made her debut on the premiere of season 24 of "Dancing with the Stars."
Alongside the likes of "Bachelor" Nick Viall, NFL running back Rashad Jennings and Mr. T, the 20-year-old gold medalist took to the stage to begin the journey toward capturing a Mirror Ball.
On this season of "Dancing with the Stars," Simone Biles' professional dance partner is 33-year-old Sasha Farber, and the two are definitely looking to uphold Biles' winning ways.
Check out the pair performing the tango!
As part of her appearance on season 24 of "DWTS," Biles is blogging about her experience on the show, exclusively for People.
In her first post, Biles wrote about her introduction to the hit ABC show, as well as how "Dancing with the Stars" is apparently harder than Olympic training.
The 20-year-old Olympic gymnast wrote,
I have spent almost my entire life pushing my body to its limits, but all my years of gymnastics training still did not fully prepare me for what it's been like to do 'Dancing with the Stars.' Sasha has been an amazing teacher. He's very patient and he knows when and how to push me. I'm getting the steps down that he's teaching me, but there's just so much more to dancing than I ever thought there would be.
Simone Biles wrote about how she knew what physical pain from training meant, but she never experienced soreness like she did during "DWTS."
The 20-year-old blogged,
I'm used to being sore, but I am going home from rehearsals with sore muscles that I never knew could get sore! In gymnastics, we're barefoot the entire day in training. With dancing, my calves and shins are aching at the end of the day because of the heels.
Biles also wrote about the various difficulties, other than the physical kind, she's experienced on the show. She wrote,
The actual dance steps are becoming muscle memory but getting into the emotion of the dance has also been something I've had trouble with. For our first week, Sasha and I are dancing a tango. The tango is a passionate dance even for an experienced dancer, but this is really my first time even dancing with a boy! I'm used to gymnastics where you're either stone-faced or smiling from ear to ear the entire routine. Now, I'm having to tap into emotions that I really am not comfortable with. But we've been working on it.
Finally, Biles wrote about the nerves she had coming into season 24 of "DWTS." She wrote,
As we head into tonight's first live show I have a ton of nerves, but that's just because it's something new that I've never done before. I know when we get out there I'll get into the same mindset that I have in gymnastics competitions: Ignore the noise and just go out there and do the routine you practiced. I'm super excited!
Good luck, Simone!
Citations: Simone Biles Says Dancing with the Stars Is Harder Than Olympic Training (People)