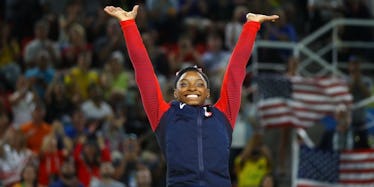 'Dancing With The Stars' Producers Have Their Eyes On Simone Biles, Source Says
REUTERS
Don't be too surprised if you see Simone Biles trading in her Olympic leotard for a ballroom dancing dress in the near future.
According to US Weekly, producers over at ABC's "Dancing With The Stars" have their eye on Simone Biles.
An inside source close to the series revealed that 19-year-old Simone Biles is on a list of top picks the show producers would love to cast for the season 23 competition.
Despite the fact that reps for "Dancing With The Stars" never comment on casting rumors, the insider revealed that the producers have been waiting to see who the shining stars were at the Olympics this year and that "they would love to cast some Olympians if possible."
I'm not sure what you're thinking, but if five-time Olympic gold medalist Simone Biles isn't the perfect fit for the high-energy dance competition, I'm not really sure who is.
Well, every member of the Final Five would be a great fit, too.
I mean, Simone is indeed the brightest shining star coming out of the Rio games, along with Katie Ledecky.
With reps for the show being tight-lipped about their potential casting of Simone Biles, it's important to remember that the gymnast's appearance on "Dancing With The Stars" isn't entirely impossible.
Back in season 4 of the show, Olympic speed skater Apolo Ohno actually won the competition.
In season 8, Olympic gymnast Shawn Johnson showed off her impressive moves. Lastly, in season 18, Olympic ice dancer Meryl Davis proved that Olympians do have a place on "DWTS."
In other words, I can TOTALLY see Simone competing for the coveted mirror ball trophy.
Producers, make it happen (pleeeaaase)!
Citations: Simone Biles Is 'Dancing With the Stars' Producers' Top Olympics Pick to Join Season 23 (US Weekly)