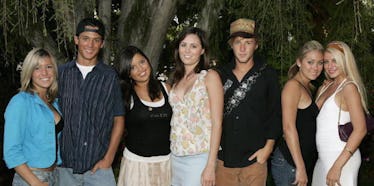 MTV's Newest Show Will Give You Serious 'Laguna Beach' Vibes & We Can't Wait
Photo by Jason Merritt/GETTY
If you say you don't miss Laguna Beach, you're lying. It was a great show during its time. That being said, it seems like MTV might be recycling the motifs of its once-huge reality drama series for a new series premiering at the end of the month.
This new show, Siesta Key, is set to be a drama in the same vein as Laguna Beach, Jersey Shore, and The Hills. According to Variety, the 10-episode season follows the relationships between six friends living in the Florida Keys as they graduate high school and return for their first summer home from college.
No doubt, as with any MTV reality series, we can expect plenty of drama from the group, which will certainly make for entertaining viewing.
The one early critique I have is that it would be nice to see some diversity in the cast. On the surface, this show seems like a tired attempt at reinventing some of the many shows we've seen on this network before, using younger versions of cast members like Lauren Conrad and Stephen Colletti.
According to MTV President Chris McCarthy, the show does have its nuances that differentiate it from the network's past hits. Apparently, Siesta Key will look into the emotional lives of the cast in a way that hasn't been done before and will touch on how social media has impacted the way teens live in the digital age. McCarthy said,
Throughout the series you'll see that each character has their own complicated stories. [The show looks at] the emotional health and mental health of these people in a way we haven't done in other series.
Hopefully, the show approaches issues of mental and emotional health with tact and not just as a way to exploit the young cast members.
And while we're hoping for things, can we maybe get a Hilary Duff theme song? Keep me posted on that. Siesta Key was first announced back in May during the MTV TV & Movie Awards and premieres on Monday, July 31.