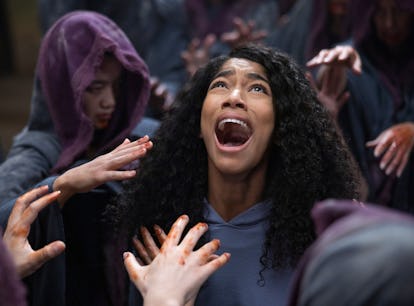 11 Spooky Shows To Watch If You Loved The Midnight Club
If you're a fan of ghost stories, gather 'round.
Netflix
Have you already marathoned your way through The Midnight Club, but don't want to stop showing up in Brightcliffe's library for more scary stories? Don't worry — although Mike Flanagan's haunting series about a group of terminally ill storytellers in a ghost-filled hospice is pretty unique, there are many similar horror shows that balance scares and feels in a similar way. If you're looking for you next watch, try out these shows like The Midnight Club that are sure to keep your watchlist spooky.
The Midnight Club has a pretty unique structure. The main story follows a group of eight teenagers in 1994 living out their last days in hospice care, as they begin to notice strange goings-on within the mysterious mansion. But the show also contains several shorter horror stories, as the teens form a Midnight Club where they gather in the library to tell scary stories each night. This jumping between various tales provides a ton of exciting plots for viewers to follow, and each vignette seems to have an illuminating connection to the person telling it.
Whatever aspect of The Midnight Club you most enjoyed or connected with, you should be able to find a show below that'll be perfect for your next horror marathon.
Love this list? Create a Likewise account to save these recs to your own watchlist and follow Elite Daily for more. You'll always know exactly what to watch next.