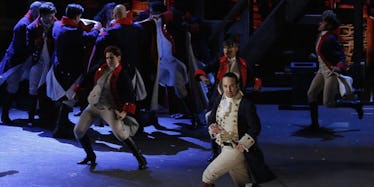 10 Broadway Shows To See If You Don't Win Tickets In The 'Hamilton' Lottery
REUTERS
As if everyone in the world didn't know about the historical hip-hop musical already, the slew of Tony Award wins (and record-breaking 16 nominations) certainly put "Hamilton" on the radar of Broadway lovers and ordinary people alike.
But with months of sold-out performances and skyrocketing prices for the few available tickets, getting a spot in the audience is almost as difficult as getting a seat at the Tonys. The "Hamilton" lottery is always an option, but lots of people end up losing and find themselves disappointed and wandering up and down Broadway figuring out their second choices.
Fortunately, New York offers hundreds of amazing shows, dozens of which take place right near the Richard Rodgers Theatre. If you find yourself "Hamilton"-less, check out these other shows that you can actually find last-minute, reasonably priced tickets for.
"The Curious Incident of the Dog in the Night-Time"
Winner of five Tony Awards last year, "The Curious Incident of the Dog in the Night-Time" has generated its fair share of buzz. The story follows Christopher, a teen with autism, as he investigates the murder of his neighbor's dog and his relationship with his family. Plus, the technical aspects of this show truly enhance the production in every way imaginable.
"Matilda the Musical"
Everyone has seen the Danny DeVito film adaptation of Roald Dahl's classic book, but the musical is turning into a fan favorite, too. With a lineup of adorable children, "Matilda" is a great alternative that will provide a sweet throwback to your childhood.
"Something Rotten!"
Like Shakespeare? Or really hate Shakespeare? Either way, "Something Rotten!" could be for you. This musical focuses on two brothers who must compete against the super popular William Shakespeare in their theater endeavors. Clever and funny with references to dozens of musicals and Shakespeare plays, this one especially appeals to avid theater fans.
"An American in Paris"
A romantic musical set in post-World War II Paris, this show will charm the hearts of any viewer. Featuring Gershwin songs and orchestral music, this musical appeals to all kinds of musical theater lovers. It also won several Tony Awards last year, so they're clearly doing something right.
"Les Misérables"
Chances are you've probably seen this one before, or at least the movie version. But the film can't really measure up to a fully staged theatrical production because the ever-popular "Les Mis" is an epic story built for the stage. This show has been playing long enough that scoring last-minute tickets shouldn't be too difficult, either.
"Chicago"
You had it coming betting on winning the "Hamilton" lottery, so when that plan fails, try getting a rush ticket to "Chicago "instead. Another revival of the classic musical, "Chicago" will please everyone in your party. Flashy and exciting, this musical will take you back to what you expect from Broadway.
"Fiddler on the Roof"
If you were a rich man, you could probably get tickets to "Hamilton." But if, like Tevye, that's just a dream, you might do better at "Fiddler on the Roof." A fun yet touching classic musical, this revival is bound to make its way into your heart with a score of emotional and catchy songs.
"Beautiful: The Carole King Musical"
Whether you're a Carole King fan, a musical theater fan or just someone who didn't get "Hamilton" tickets and needs another show to see, this musical is a great pick. It tells the story of Carole King's life and her marriage with Gerry Goffin, and best of all, it features tons of her music.
"School of Rock"
It doesn't feature Jack Black, but this musical still rocks (haha, get it?). Reminisce about the movie while enjoying the music of the famous Andrew Lloyd Webber and having a blast jamming out in your fancy Broadway seat. This one works for those still not quite into that "musical theater" thing.
"The Color Purple"
Based off Alice Walker's powerful novel of the same name, "The Color Purple" is back on Broadway with an incredible revival that won two Tony Awards. Cynthia Erivo, the actress who plays Celie, even helped the show beat out "Hamilton" for the Best Actress in a Musical award. While last minute tickets might be difficult to get after all the recent wins, the show does sell rush tickets, and it's definitely worth a sprint to the Bernard B. Jacobs Theatre.
So even if you don't find yourself satisfied with the outcome of the "Hamilton" lottery, you can still find plenty of rush tickets for many other incredible Broadway shows. And who knows? You might find a new favorite.