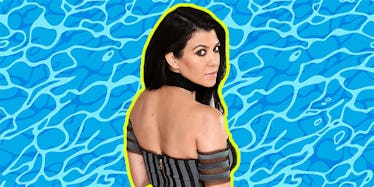 Kourtney Kardashian Defines 'Short Girl Problems' In This Bikini Selfie
REX/Shutterstock
Before you get jealous of Kourtney Kardashian's straight week of sunning herself by the water while the rest of us complain about how cold our offices are, take a sec to consider her struggles.
Like, sometimes, her small stature makes taking selfies kinda hard.
YEAH, SELFIES, YOU GUYS. Kourt LOVES selfies! Pray for her.
The reality star snapped a mirror pic of herself in a white bikini, but was forced to stand on a chair to get her whole body in the photo.
The 37-year-old captioned the post, "Short girl problems."
The moral of this story, though, is Kourtney persevered and GOT that bathing suit selfie.
In fact, she got several.
As a woman who does not share Kourtney's particular issues with height, but has been referred to in certain circles as a "big-giant-freak-omg-why-are-you-so-long" (my bullies were never creative, but they were dedicated), I understand how hard it can be to get your entire body into a photo.
Kourt stretches skyward and steps on chairs, while I hunch like Taylor Swift talking to literally any other female celebrity. It's what we have do to get the 'gram, and there's no shame in it.
Citations: Kourtney Kardashian Jokes About Her 'Short Girl Problems' as She Posts Bikini Selfie (PEOPLE)