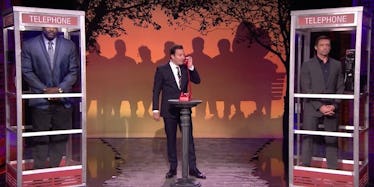 Shaq Hilariously Tried To Fit In A Tiny Phone Booth With Alex Trebek (Video)
Things got pretty intimate on "The Tonight Show Starring Jimmy Fallon" the other night.
On the show, Hugh Jackman and Shaquille O'Neal went head to head in a game called Phone Booth. Jimmy, how the hell do you come up with this? It's absolutely brilliant.
To play the game, Shaq and Hugh both went into separate phone booths. Jimmy would call them and ask them each a trivia question.
If they got the answers wrong, random strangers from "the mystery bench" would get shoved into the phone booths with them.
You may understand how Shaq clearly has a disadvantage in the game. I mean, he is only 7'1", and those phone booths aren't exactly spacious.
Watching Shaq and Hugh battle it out is pretty hysterical, but by far the best moment is when when "Jeopardy!" host Alex Trebek must join Shaq in his phone booth.
Check out the full video above to watch their tender embrace, along with a special appearance by Mr. Met from the New York Mets.
What a crew.