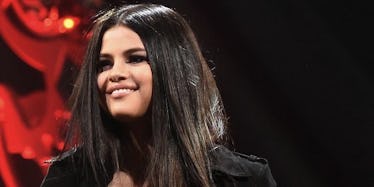 Selena Gomez Posts A Throwback Pic To When Her Career Really Jumped Off
Getty Images
Selena Gomez has certainly changed her look over the years. Most notably, she went from knee-length jean shorts to barely-there mesh tops. Granted, this fashion evolution took time; she was only 7 years old when she sported sleeveless polos.
As evidenced by her throwback Insta with Barney, she may have also been the cutest 7-year-old ever.
The 23-year-old pop singer starred in 14 episodes of the kids' show, "Barney & Friends," acting in seasons 7 and 8 alongside Demi Lovato. With the simple, yet poignant caption "throwback -swag," the super cute photo quickly got 2.4 million likes from her massive squad of fans.
Most recently, Gomez was styling a very different look for the cover of W magazine. https://instagram.com/p/BBVKoGkujDF/embed/
Looking good, Selena. And while we're stalking her Instagram profile, can we please talk about how effing adorable her godson is?
Cuteness overload runs in the family, obviously.
Citations: She sure has changed! Selena Gomez, 23, shares throwback snap from when she was just seven-years-old and starring on Barney & Friends (Daily Mail)