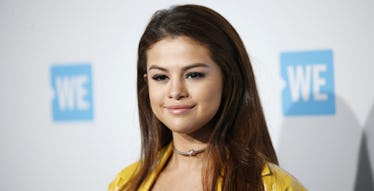 Selena Gomez Was Going To Star In A Disney Channel Spinoff That Never Aired
REUTERS/Danny Moloshok
This unaired Disney Channel pilot is everything you never knew you were missing in life.
It has pratfalls. It has poop jokes. It has a lanky bald guy in silly glasses. SILLY GLASSES, YOU GUYS!!!
The pilot, reportedly shot in 2007, was intended as the start of a spinoff series.
In the episode, Arwin, the engineer from "The Suite Life of Zack & Cody" played by Brian Stepanek, leaves his position at the Tipton Hotel to help his sister raise her three children (one of whom is mildly rebellious teen Alexa, aka a pre-"Wizards of Waverly Place" Selena Gomez).
Titled either "Arwin!" or "Housebroken," the show was reportedly axed after the pilot was filmed, a crime on par with patricide.
In all fairness, this show's failure made room for Selena's success on "Wizards," but if only there was a world in which both of these golden nuggs could exist.
Citations: Did You Know There Was a "Suite Life" Spin-Off That Starred Selena Gomez? (Cosmopolitan)