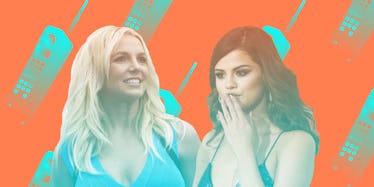 A Selena Gomez-Britney Spears Duet May Be Happening And Twitter Is Losing It
REX/Shutterstock
*RUNS INTO THE ROOM FASTER THAN I'VE EVER RUN IN MY WHOLE LIFE, INCLUDING THE TIME MY BEST FRIEND SET HER DRIVEWAY ON FIRE*
*TRIPS*
*PLAYS IT OFF LIKE I JUMPED A LITTLE*
*KEEPS RUNNING TO THE FRONT OF THE ROOM*
*TRIPS AGAIN*
*FALLS FLAT ON MY FACE THIS TIME*
*DELIVERS THE NEWS FROM THE FLOOR BECAUSE IT'S TOO IMPORTANT*
Guys guys guys guys guys guys, listen, guys, look, guys, are you listening?
SELENA GOMEZ. *deep breath* BRITNEY SPEARS. *deep breath* DIVA DUET. *dies*
Everyone's favorite Disney Channel survivors just teased fans on Twitter with the promise of a collaboration.
In a video on Snapchat Tuesday, Selena told followers she'd "technically" completed a duet with Britney titled "Hands."
"Well babe, technically I HAVE done a duet with @britneyspears..." EXCLUSIVE snap from Sel's global snapstory pic.twitter.com/oTvAr6doVw — Official Selenators (@SelenaFanClub) July 19, 2016
The song is not a duet, but rather a massive collab by Selena, Brit, Meghan Trainor, Jennifer Lopez, Gwen Stefani and other stars to benefit victims of the Pulse nightclub shooting in Orlando (so follow Selena's advice and buy it).
Yet when a fan shared Selena's Snapchat clip on Twitter, Britney made it clear she's available for some one-on-one recording time.
Technically, yes... But when are we working on our actual duet @selenagomez? https://t.co/fIKGC1IB0I — Britney Spears (@britneyspears) July 21, 2016
Fans are understandably losing their shit.
IT'S TIME AAAAAAAAAAAAAA @britneyspears @selenagomez pic.twitter.com/6zDQ9eZP1v — Brxno (@whispersofsel) July 21, 2016
@britneyspears pic.twitter.com/LQuyxu3vpm — Kingsley (@kingsleyyy) July 21, 2016
@britneyspears @selenagomez we are waiting for this for a long time, mother and daughter pic.twitter.com/5t0uFbZvLa — miguel (@ifavselena) July 21, 2016
@britneyspears @selenagomez pic.twitter.com/rZCRoZCrZC — Andressa Corradi (@dessacorradi) July 21, 2016
@britneyspears @selenagomez @SelenaFanClub LOL Selena is about to freak tf out!!! pic.twitter.com/90wiYKp57B — Caitlin J. (@Caitlin901) July 21, 2016
PRAY TO WHITNEY. PRAY TO AMY. PRAY TO AALIYAH. PRAY TO OG SELENA.
This duet will happen.
Citations: Is A Selena Gomez & Britney Spears Duet In The Works? (Refinery29)