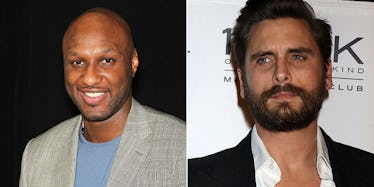 Scott Disick And Lamar Odom Discuss Their Struggles To Overcome Addiction
REX/Shutterstock
Scott Disick and Lamar Odom got super real on this Sunday's episode of "Keeping Up with the Kardashians."
The two men had a heart-to-heart and talked about Lamar's overdose while the rest of the family ate dinner.
The former NBA champion was found unconscious in a Nevada brothel back in October and was hospitalized with his family and friends by his side.
In the episode, Scott opened up about how scared he was to see Lamar in the hospital. He shared how he had to leave because he just "couldn't handle it."
Lamar then talked about how he was "scared half to death."
He told Scott,
I was, I was trapped in my body. Couldn't even say 'excuse me' or 'thank you.'
When asked how he's feeling now, Lamar told Scott he's taking things "day by day."
After their chat, Scott continued to share how the entire experience affected him. He said,
When I first heard about what happened to Lamar, it was heartbreaking... and it didn't seem like he was going to be able to turn his life around and come back. And now that he is, it's a miracle. He's got another chance at life so it's pretty unbelievable.
The conversation soon transitioned into Scott opening up about his time in rehab. To hear their full discussion, you can watch the video above.
Citations: Scott Disick Lamar Odom Talk Overdose (E! News)