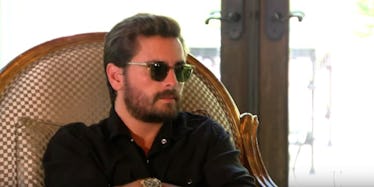 Scott Disick Was Seen Crying To Kourtney And Her Other Family Members (Video)
Scott Disick is feeling feelings, y'all.
For the 11th time, America will be able to confidently proclaim, "I kept up with the Kardashians."
This is a big deal. Keeping up with this family involves keeping tabs on like 50 B-list Hollywood people, six mobile apps, eight perfume lines, seven clothing lines and remembering Kourtney doesn't spell her name the way it should be spelled.
You can all celebrate this landmark achievement by treating yourself to a one-month subscription to Kylie's app.
You earned it, America.
In order to mark the new season, E! unveiled a trailer for the show featuring quick shots of Caitlyn Jenner going to eat at a family dinner, Tyga crashing some vacation and Kim dealing with too much fluid in her placenta.
Needless to say, it's gonna be a BIG season.
But one moment stuck out among all the rest in the preview: Scott Disick had a super emotional sit-down with some select members of the Kardashi-clan.
Do we not hate Scott now? Is that even possible?
Citations: Khloé Strips, Scott Cries and Kim's ''Diabetes'' Confession: Watch the Keeping Up With the Kardashians Season 11 Promo! (E! Online)