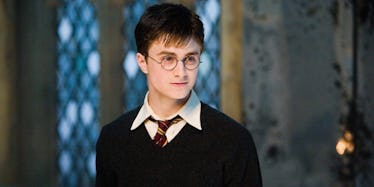 The New 'Harry Potter' Book Coming Out Is Not What You're Expecting
Warner Brothers
Let's get something VERY clear: Scholastic isn't releasing a new "Harry Potter" book.
It's been 19 long years, eight mediocre movies, billions of pages of fanfiction, several amusement parks and the formation of a Muggle Quidditch league since JK Rowling let us all know "all was well" for Harry Potter and the Wizarding World.
The "Deathly Hallows" has the rare distinction of being one of those series-ending books that didn't leave fans of the franchise furious with the writer. It was the perfect ending to the perfect universe and probably why there is no group of devotees more passionate about the thing they idolize than "Harry Potter" fans.
And that's why Scholastic is such a bullsh*t hack company.
Let me explain.
Today the Internet exploded, thanks to a tweet sent out from everyone's favorite publishing company.
WHAT!?!?!?! MORE "HARRY POTTER"?!?!?!??!?! MORE TO THE SERIES?!?! ANOTHER BOOK?!?!
GAHHHHHHHHH!!!!!
THIS IS GAME-CHANGING! THIS IS WHAT WE'VE ALL BEEN WAITING FOR! THIS IS THE BEST NEWS IN YEARS!
This is also a lie. Scholastic isn't making sh*t.
You know what it's making? A transcribed version of "Harry Potter and the Cursed Child" packaged as the brand-new eighth book. Why?!?! Probably because there is literally no joy in this world, and everyone wants to be the worst person he or she can possibly be.
Before I go forward, I should probably make it clear I am excited for the play. I'm not saying Scholastic is wrong in releasing a copy of the script, and, honestly, I'll 100 percent read it at some point. I'm not saying I'm against the script's release. More "Harry Potter"? Sign me up!
What I am saying is this whole marketing campaign is one big money-sucking lie.
Scholastic announced the release on its site. Ellie Berger, president of Scholastic Trade Publishing, said,
As the US print publisher, Scholastic introduced Harry Potter and JK Rowling's Wizarding World to American readers nearly 20 years ago and experienced firsthand the anticipation and excitement of the publication of each of the books over the years. We are thrilled to publish 'Harry Potter and the Cursed Child' this summer.
But that's not all they did.
Here is another tweet Scholastic sent out today.
I'm sorry, but this and Ellie Berger's remarks imply a book. This misdirect is responsible for a lot of people getting crazy excited until reading the fine print. One of those "OOOOH! OOOOOH! OOOOH!... Oh. That's OK, I guess" moments that come with finding out you're going to SeaWorld instead of Disney World on an Orlando vacation.
This is a letdown of epic proportions. They know more copies of the book will sell if it's marketed as a brand-new book versus a transcription of the play.
The worst part is, at this point, the franchise is not even hiding its attempts to make us open up our PayPal accounts.
Take a look at this excerpt from the bottom of Pottermore's coverage of the "book." (Pottermore, by the way, will play some role in the print release of "Harry Potter and the Cursed Child.") The site reads,
Next year will see the publication of four special editions of the first book in the UK, one for each of the four Hogwarts houses. There will also be a brand new edition of 'Fantastic Beasts and Where to Find Them' in 2017, with new content by JK Rowling, as well as new formats and editions of the Hogwarts Library books – 'Fantastic Beasts and Where to Find Them,' 'Quidditch Through the Ages' and 'The Tales of Beedle the Bard.'
JESUS EFFING CHRIST, HOW MUCH MONEY DO I NEED TO SPEND ON THIS GODDAMN SERIES?!?! This isn't new content. This is repackaged, old content with maybe a letter from JK Rowling inside some of the books.
STOP WITH THESE SMALL EDITS IF YOU AREN'T RELEASING ACTUAL NEW CONTENT!
ALSO, I WAS A RAVENCLAW! WHY DID I GET RE-SORTED INTO HUFFLEPUFF WITH THE NEW POTTERMORE SORTING HAT?!?! WHAT IS THAT CRAP? I AM A RAVENCLAW! I CURSE ALL THE TIME!
OK, that last thing was a very me-centric problem, but the rest of what I'm saying affects us all.
Scholastic, you KNOW we're going to buy everything "Harry Potter" you put out. It's just, lately, you turned us into Lucy at the chocolate factory.
It's becoming too much. Re-sort me into Ravenclaw like you know I should be, and stop pulling this new-edition crap.