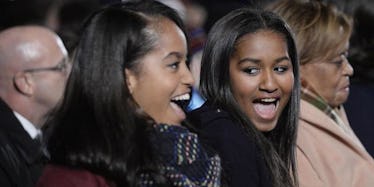 Sasha And Malia Obama Define #SisterGoals At White House State Dinner
Getty Images
At their first ever state dinner on Thursday evening, first daughters Sasha and Malia Obama demonstrated once and for all how, above all else, they are teenage girls just like any other.
During the dinner, 14-year-old Sasha had the distinct honor of meeting Canadian actor/DILF/all-around perfect human Ryan Reynolds. As she is, you know, a teenage girl, she kind of totally freaked out -- and the whole incident was immortalized in a perfectly-timed photograph.
However, it isn't Sasha's fan-girling that has the world laughing out loud — it's her sister's totally sisterly response.
Here's the photo:
As you may notice in the background, 17-year-old Malia has on the face of every elder sister watching her younger sis embarrass herself. With a resigned grin and both hands held up in a sarcastic "thumbs-up" position, it's clear she's preparing to poke fun at her sis for the rest of the evening.
That's Twitter's take, anyway. See the Internet's response to the hilarious pic below.
The most sarcastic thumbs-up EVER.
And Ryan Reynolds doesn't even notice.
Malia is loving every second of this.
Watching little sis embarrass herself is every big sister's dream come true.
All things considered, though, Sasha got to meet Ryan Reynolds -- so really, who's laughing now?
Citations: Everyone Is Obsessed With This Picture Of Sasha And Malia Obama Meeting Ryan Reynolds (BuzzFeed)