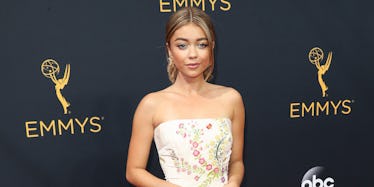 Sarah Hyland Wore Both A Dress And Pants On The Emmys Red Carpet
Rex/Shutterstock
Sometimes you just can't decide what to wear.
You have something in mind -- a dress, let's say -- and then at the last second, you freak out because you think you'll be too hot/cold/dressed up/casual/etc. You start to hyperventilate, sweat and you seriously consider just staying home and never venturing out in public again.
We've all been there. It's the absolute worst.
And it looks like that's what happened to Sarah Hyland before the Emmys tonight... kind of.
The "Modern Family" star showed up to the 2016 Emmys red carpet wearing a Monique Lhuillier creation accented with Lorraine Schwartz jewelry. She paired the dress (or shirt?) with black cigarette trousers -- or, by the looks of it, it could be completely attached as one entire outfit.
I'm really not a big fan of this look. She could've definitely done better... It's not her first time around the block, after all. "Modern Family" has won 21 Emmys in total (not counting any wins during tonight's show).
"Modern Family" is up for four awards at the 68th Primetime Emmy Awards: Outstanding Comedy Series, Outstanding Supporting Actor in a Comedy Series (Ty Burrell), Outstanding Casting for a Comedy Series (Jeff Greenberg) and Outstanding Sound Mixing - Comedy Or Drama Series (Half-Hour) And Animation.