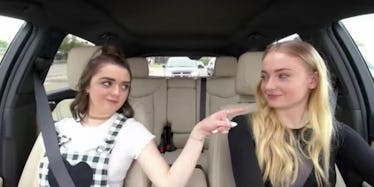 Sansa And Arya Stark Reunite In Star-Packed New 'Carpool Karaoke' Trailer
Youtube
Game of Thrones fans have been waiting so long for the Stark sisters to reunite, and now that it's so close to actually happening on the show only makes the anticipation even more unbearable. I mean, we came soooo close to seeing it happen last week when Sansa got called to the Winterfell gate to greet a sibling, but it turned out to just be boring 'ole Bran. But the Stark reunion we all want is finally here... it's just not happening in Westeros. Sansa and Arya Stark appear in the Carpool Karaoke series coming to Apple Music next week.
In the latest trailer for the upcoming series, Sophie Turner and Maisie Williams get in some much-needed sisterly bonding belting out songs in the car and riding an animatronic dragon. The Game of Thrones girls only appear for a quick couple of seconds amidst a barrage of other superstars also jamming out and goofing off together. The new trailer also features clips of segments starring Ariana Grande and Seth MacFarlane, Queen Latifah and Jada Pinkett Smith, Miley Cyrus and her whole family, and a bunch of other stars. Check out the celebrity-filled trailer for Apple Music's Carpool Karaoke: The Series below.
The upcoming Apple Music series is a spinoff of the viral Late Late Show segment James Corden has popularized over the last couple years. The difference in the new series is in place of Corden, two celebrities will be paired with one another to drive around and sing some of their favorite tunes. It also appears to include many more out-of-car activities than the Corden segments do.
Other stars confirmed to appear on Carpool Karaoke: The Series include Will Smith, John Legend, Chelsea Handler, Alicia Keys, Shaquille O'Neal, Blake Shelton, Sheryl Crow, John Cena, and more. Carpool Karaoke: The Series premieres Tuesday, August 8 on Apple Music.