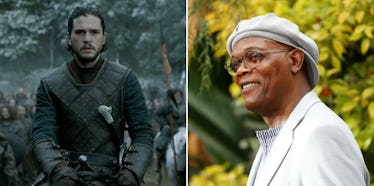 Samuel L. Jackson Recapping 'Game Of Thrones' Is Everything Newbies Need
HBO/REUTERS
Are you a "Game of Thrones" junkie? Like, you live on Reddit and your life wouldn't have meaning without the show and its infinite fan theories?
Or, maybe you're that person who comes to work every day and wonders why people are still talking about a show that ended weeks ago.
Well, regardless of which category you fall into, we can all agree on one thing: Samuel L. Jackson has one of the greatest voices in entertainment history.
So, whether you've seen every "GoT" episode or not, you'll want to check out the video above, in which Samuel L. Jackson gives a thorough breakdown of "Game of Thrones," from season one, episode one to season six, episode 10.
In less than eight minutes, Samuel L. Jackson manages to explain "Game of Thrones" in depth and give an entertaining analysis as only Jackson can do.
And lest you think Jackson isn't a huge "Game of Thrones" fan, note the part where he says,
All of this is is nothing compared to what we didn't have a chance to get to... the backstabbing, the lying, the cheating, the parts that will make you feel uncomfortable.
Slay, Samuel L. Jackson. Slay.
Citations: Samuel L. Jackson may be the best Game of Thrones recapper ever (Entertainment Weekly)