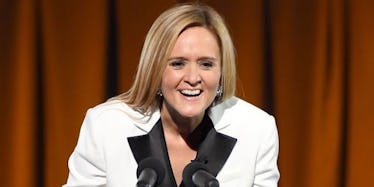 7 Hilarious Jokes From Samantha Bee's 'Not The White House Correspondents' Dinner'
Getty Images
If you're a normal human with friends who made plans and actually followed through with them (unlike me), you might have missed the best thing on TV Saturday night. No, it wasn't the White House Correspondents' Dinner. It was Samantha Bee's special, "Not The White House Correspondent's Dinner."
Ugh. Even the special's name... It's SO savage and I love it.
Bee announced back in January she wouldn't be attending the annual White House dinner, just days after President Donald Trump was sworn in to office. Her counter-event, which was held at DAR Constitution Hall, promised to celebrate journalists and "non-irritating celebrities."
"Not The White House Correspondents' Dinner" was just as hot of an event as the real WHCD, if not hotter. Celebrities who attended included Keegan Michael-Key, Jessica Williams and Gloria Steinem. We even got a surprise appearance from George W. Bush (AKA Will Ferrell).
Unfortunately, Vladimir Putin was a no-show.
As we could have guessed, the Trump roasts were plentiful. For those of you who missed it, here are seven of our favorite jokes from the special.
The one where Allison Janney returned as CJ Cregg and confirmed what we all know to be true.
Yes, we're all witches. Get over it.
The one where Samantha Bee convinced us she's roasted every president.
The one where we found out who's been holding onto our alternate reality.
GEORGE! WE SHOULD HAVE KNOWN.
The one where Will Ferrell showed off his unfinished Donald Trump painting.
He said he "exhausted his palette of yellows and oranges." Actually, Will Ferrell's entire skit just killed it.
The one where Billy Eichner compared Betsy DeVos to an ol' bag of bones.
I mean... I can't really argue with him on that one.
The one where we found out what the real deal was with Bill O'Reilly.
Samantha Bee joked,
You guys, I can verify that Bill O'Reilly is alive. He left me a long voicemail last night. It sounded like he was mixing custard while walking up the stairs or something. Anyway, he sounded very relaxed by the end of the call.
The one where we learned about alternative facts from Steve Buscemi and a cat.
Proceeds from "Not The White House Correspondents' Dinner" will go to the Committee to Protect Journalists.