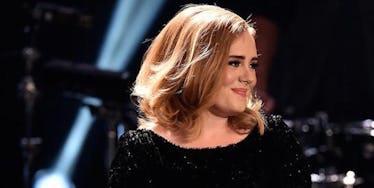 Adele Fans Are Now Freaking Out, And It's Definitely For A Good Reason
Getty Images
Hello, it's ALL OF US, AND WE WANT OUR GODDAMN ADELE TICKETS, YOU HACK SCAMMERS!
Adele's first tour in five years kicks off in July, and everyone is appropriately freaking out. I'm not coming close to exaggerating when I say this is arguably one of the most anticipated music events in history and will probably bring about the Second Coming of some major deity.
PROVE ME WRONG.
Tickets released today for Adele Live 2016, and eager fans are not happy about the way sales rolled out. Dates sold out instantly with StubHub's and Ticketmaster's website suffering from massive wait times.
This enabled third-party ticket buyers (READ: human scumbags with the integrities of the most evil Koch brother) to swoop up tickets and begin up-selling them back to regular, honest, hard-working, nice people who don't want anything else in this world except to cry with thousands of other Adele fans listening to our shared QUEEN in stadiums around this country.
Twitter is PISSED about how this all went down.
Shame on you, ticket sales people!
MONSTERS.
It's hard to get angry at this honest third-party buyer, though.
Anyway, good luck trying to find tickets to any upcoming show or living a life worth living in the future.