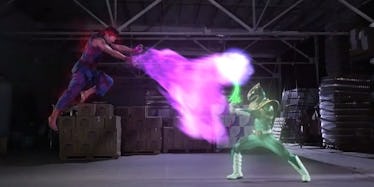 Ryu From Street Fighter Took On The Green Power Ranger In An Epic Battle (Video)
Have you ever wondered who would win if Ryu from "Street Fighter" battled with the Green Power Ranger?
No, neither have I. But, like it or not, we now have an answer to that question.
The people at "Super Power Beat Down" have pitted Ryu against the Green Ranger in a battle for the ages.
There are some excellent fight moves in this combat. There's also some pretty great CGI used here.
So, if you want to watch a fight that isn't a total snooze fest like Mayweather vs. Pacquiao, check out the video below. The action really gets going around the 4-minute mark.