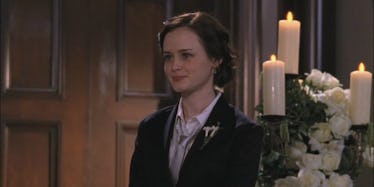 Someone Designed A Wedding Dress For Rory Gilmore And It's Perfect
Warner Bros
With only a few days left before the long awaited premiere of "Gilmore Girls: A Year in the Life," fans are abuzz with whom Rory Gilmore will end up with in the long run.
Whether you're Team Dean, Jess or Logan, one thing is for sure...
IF RORY DOESN'T HAVE A HAPPY ENDING, I WILL LITERALLY SCREAM.
While we'll finally find out on Friday, when we binge-watch all four episodes of the show on Netflix, we can only dream of Rory's happy day for the time being.
Not that a woman needs a wedding to feel fulfilled in her life.
One bridal brand has perfectly imagined what her maybe wedding dress would look like and if you're a hardcore "Gilmore Girl" fan, you can even buy it yourself.
Bridal designer Floravere has come out with the R. Gilmore dress. The strapless dress, with delicate floral accents, is described as "an iconoclast's take on tradition. Individually embroidered flowers are hand-sewn on for a subtly fresh texture on a classic, elegant silhouette."
The description continues,
The strapless sweetheart silhouette is all old-world-glamour while tactile, graphic flowers are true new-world romance.
Floravere has a number of dresses that are inspired by pop culture heroines. They said that the R. Gilmore gown "honors the woman who embraces tradition, but adds her own wit, sass and warmth to it. This gown honors the Rory in all of us!"
While it may set you back $3,390, you can totally customize the dress -- from the color to the train length to the waistline placement.
Every flower on the dress is individually embroidered in India just for this dress. It is then hand-sewn on.
Uh... would it be weird of me to order a dress before I find my spouse?
The four 90-minute episodes of "Gilmore Girls: A Year in the Life" hits Netflix on Friday, November 25.
Citations: Yes, You Really Can Buy a Rory Gilmore-Inspired Wedding Dress (US Magazine)