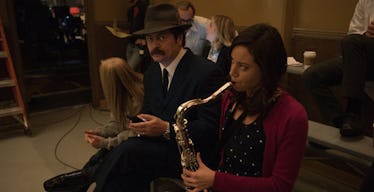 10 Lessons We Learned From Ron Swanson And April Ludgate On 'Parks And Rec'
NBC
If you're a TV lover, casual watcher or human being with eyes and a heart, feeling an emotional and spiritual connection to a character is not a foreign concept.
However, there are certain characters who have the ability to pull on your heartstrings and speak to the deepest parts of your soul; those are the characters worth talking about.
If you have ever been charmed by the cast of "Parks and Recreation," then you've experienced a level of raw, emotional character development that cannot be replicated. Amy Poehler, Michael Schur and Greg Daniels gave the characters of the show life in a way that makes me feel serious feelings just thinking about them.
But because I try to be a normal person, I understand they are JUST CHARACTERS, and there are real, living, breathing actors who play them.
On this very special day, two of those "Parks And Rec" real, living, breathing, actors entered this world.
Today, June 26, Aubrey Plaza (April Ludgate) turns 32 and Nick Offerman (Ron Swanson) turns 46. That's right, these two greats were born on the very same day, and that day is TODAY.
So, as a touching gift to two of my personal heroes, I figured I would commemorate their days of birth with some GIFs explaining the lessons we all learned from the masterful Ron Swanson and April Ludgate.
Yeah, I know. I've really outdone myself. I am so kind and generous. I KNOW.
We learned to kindly say "fuck off" to salad.
April Ludgate gave us the only lesson in philosophy we'll ever need.
Ron taught us it's (not really all that) important to offer a helping hand.
We learned to always have good manners when it comes to the things we love the most.
Ron Swanson taught us when you order at a restaurant, you should be as clear and concise as possible.
April taught us maintaining personal space is the key to healthy relationships.
We learned to never trust a liar, no matter what form it takes.
April taught us to demand the respect we deserve.
We learned to always do things for the right reasons.
And, most importantly, Ron Swanson and April Ludgate taught us the power of a biting, sarcastic and beautiful friendship.
Happy birthday, Aubrey and Nick, thanks for all you've done.