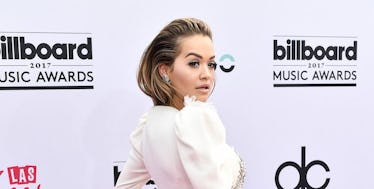 Rita Ora Channeled Kendall Jenner With Sheer Look At BBMAs, Obviously Slayed
Rob Latour/REX/Shutterstock
Sheer is making so many trendy waves on the red carpet tonight at the 2017 Billboard Music Awards, and it looks oh-so smoking hot.
This seems to be the look of the season, and all of the celebs want in on the action.
We saw Kendall Jenner and Kylie Jenner making such a gorgeous fashion statement in sheer gowns back at the Met Gala the beginning of May. Both of them slayed it on the red carpet like the iconic goddesses they are, and we all swooned.
Seriously though, look at how glam Kendall Jenner looks wearing this sheer stunner adorned with 85,000 crystals, creating such a magnificent masterpiece.
That's right, the gown literally has 85,000 crystals on it.
Kylie, girl, you ruled it wearing sheer, complete with your chic platinum blonde hair.
This evening, at the star-studded awards show going down at the T-Mobile Arena in Las Vegas, we saw several celebrities working the carpet, channeling their inner Kylie and Kendall. And, they worked it well.
Because, let's be honest here, our main Jenner girls know what's up in setting the fashion trends each and every season to the max.
Rita Ora wore this gorgeous black and white ensemble, paired with black heels and jewels.
Her hair's slicked back, and she's looking so sleek working it on the carpet as if she owns it.
It's clear Olivia Munn's sheer dress deserves a special award all of its own tonight.
Munn's high neckline is so elegant, and the pink floral embellishments add the ultimate striking touch to her overall look.
Real talk: I'm a tad obsessed with this one, and Munn's soft dark curls are the perfect cherry topping to this show-stopper statement.
Work it, ladies! These dresses are sizzling, and Kendall and Kylie would probably be so proud.