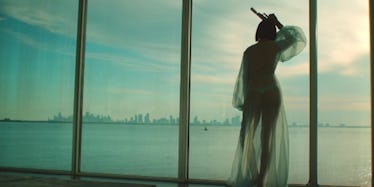 Rihanna's Sexy 'Needed Me' Video Is Reminding Everyone Of The Same Thing
YouTube
Rihanna — who might not even own any bras anymore, an admirable choice I will try desperately to implement in my own professional endeavors, likely with less success — just released the video for "Needed Me," the latest single off Anti, and fans are making Grand Theft Auto comparisons.
***SPOILER WARNING*** WATCH THE MUSIC VIDEO, THEN READ THIS NEXT PART, BECAUSE OF SPOILERS. DON'T LOOK DOWN THERE AT THE REST OF THE WORDS. LOOK UP AT THE VIDEO, WATCH THE VIDEO, THEN LOOK DOWN THERE AT THE REST OF THE WORDS. THIS HAS BEEN A ***SPOILER WARNING***
In case any of you are still on the fence about whether the eight-time Grammy winner's newest release is at all reminiscent of past GTA video games, may I remind you she SHOOTS SOMEONE POINT BLANK IN A STRIP CLUB.
Anyway, if you don't believe me, check Twitter.
There's something so much more satisfying about watching Rihanna f*ck sh*t up all over town than some sweaty weirdo in pleated pants and a receding hairline. Carry on, RiRi.