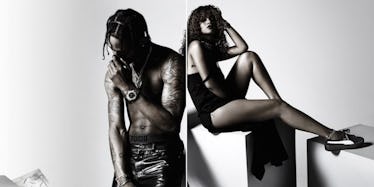 Love In A Hopeless Place: Rihanna And Travis Scott Might Be Dating
My sincerest condolences to all men everywhere.
Rihanna, it seems, is off the market, and you all have Travis Scott to thank/hate forever.
Throughout the beginning of New York Fashion Week, the two were reportedly seen canoodling at Chris Isen's Halloween party several locations around the city, including Scott's concert and a private party at Up & Down.
While a post on the "Bitch Better Have My Money" singer's Instagram on Sunday asserted her independence...
...a source reportedly told E! News,
Travis and Rihanna are dating, officially. It's already very serious. He's very into her.
Despite RiRi's trip to Barbados last month with Formula 1 racer Lewis Hamilton, E!'s source is sure the singer is stuck on Scott.
The source shared,
Rihanna likes Travis a lot and hopes it develops into something more. All of her friends think he is gonna be the keeper... Travis is completely her type and they share the same interest[s].
If a mysterious source isn't enough to completely convince you of this pair's legitimacy, some blurry TMZ footage of them partying together should do the trick.
SO IT IS DECREED: THIS COUPLE IS TOTES A THING.
Citations: Rihanna and Travis Scott Are Officially Dating—All the Details on Their Hot New Romance! (E! News)