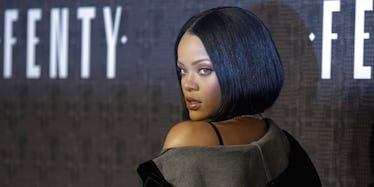 Best News Ever: There's A Documentary About Rihanna In The Works
REUTERS/Eduardo Munoz
Rihanna fans, listen up. I have some exciting news for you.
Apparently, there's a new Rihanna documentary in the works. The production company, Film 45, will be working on the project, led by Peter Berg, the company's founder.
The documentary will be titled "Rihanna," and it will focus on the lifestyle of the 28-year-old artist. It'll give her fans a chance to see her everyday routine and schedule when she's not in the spotlight.
Film 45's website sums it up by saying,
Follow this true international superstar as she navigates life as an artist, businesswoman, and humanitarian, while contending with the inherent pressure of artistic freedom. Peter Berg's 'Rihanna' is an unfiltered look into Rihanna's life and how she's ascended to become a global icon, providing a glimpse into the evolution of one of the world's most well-known pop artists.
DOES THAT SOUND AWESOME OR WHAT?
RiRi, I hope you're ready to let us into your life because we're pretty damn pumped to be a part of it.
Hopefully, we'll hear more details about the film soon, like when it's set to release?!? Please, Peter Berg, make it come out soon. I CAN'T WAIT MUCH LONGER.
Citations: "Rihanna" Documentary (Film 45), "Rihanna" Documentary (Elle)