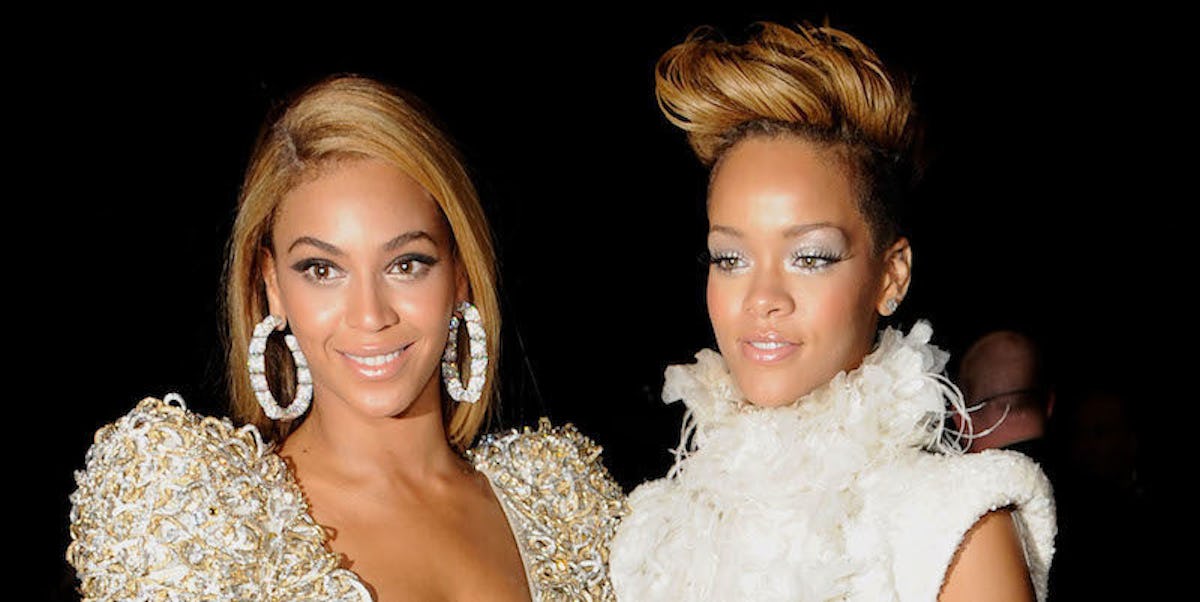 Rihanna Finally Addresses Those Rumors Of A Rivalry With Beyoncé
Getty Images
Everyone, chill. Just because Beyoncé and Rihanna both happen to be killing the game right now doesn't mean they're competing.
Your girl RiRi is front and center on Vogue's April issue, looking like a fierce rainbow mermaid.
In the interview, she talked about her new album, Anti, and her upcoming tour, and she took a moment to address some rumors that have been floating around about her and Queen Bey.
There were murmurings Beyoncé issued a challenge to Rihanna because Beyoncé dropped the surprise single and music video for "Formation" only a week after Anti was released.
But, never fear, Rihanna shut down the notion the two awesome ladies can't be out there slaying at the same time.
When asked about the supposed Rih/Bey faceoff, Rihanna said,
Here's the deal. They just get so excited to feast on something that's negative. Something that's competitive. Something that's, you know, a rivalry. And that's just not what I wake up to. Because I can only do me. And nobody else is going to be able to do that.
Hear that? No need to turn everything into a rivalry, people! I have no doubt Rihanna and Bey had a good laugh together over this with Jay Z and Drake.
Rih's just doing Rih, and no one else can "Work" like her. Seriously, no one else sing that song except Rihanna. Can someone please tell my next door neighbor this?
Citations: Rihanna Shuts Down Rumors That She's Competing With Beyoncé (Cosmopolitan)